Night at Kazimierz
Traditionally on Wednesday, a crazy Night at Kazimierz in Alchemia – the club run by the friends of the festival – attracts dancing crowds and this tradition must also be preserved online! Celebrating our 60th jubilee edition, Kukurba&Słowiński Project will perform for us! Tomasz Kukurba, an artist known in Poland and abroad and the frontman of Kroke who plays the viola and sings characteristic vocal parts, has decided to join forces with Stanisław Słowiński, one of the most in-demand jazz violinists of the young generation, and develop a programme which is a fusion of two extremely colourful and diverse musical worlds. Please, join us!
Tue Steen Müller
Zoom In Zoom Out
And what are your thoughts about that? The moderator of the pitching session – sitting in her home somewhere over there – asks the sales agent sitting in her home in Zürich Switzerland. The pitching team is from Norway, the project deals with people in Peru. The pitchers are in their homes in Norway, I am watching from my corner chair in a garden house in Copenhagen. Where I have been with my wife since beginning of April, watching the garden come to life with a lot of green but also blue and red flowers – and birds singing you good morning when the sun rises. Pure Monet. No complaints from me, this is COVID times and we have to take care. And we do. Even if we can only see the dear small ones very little.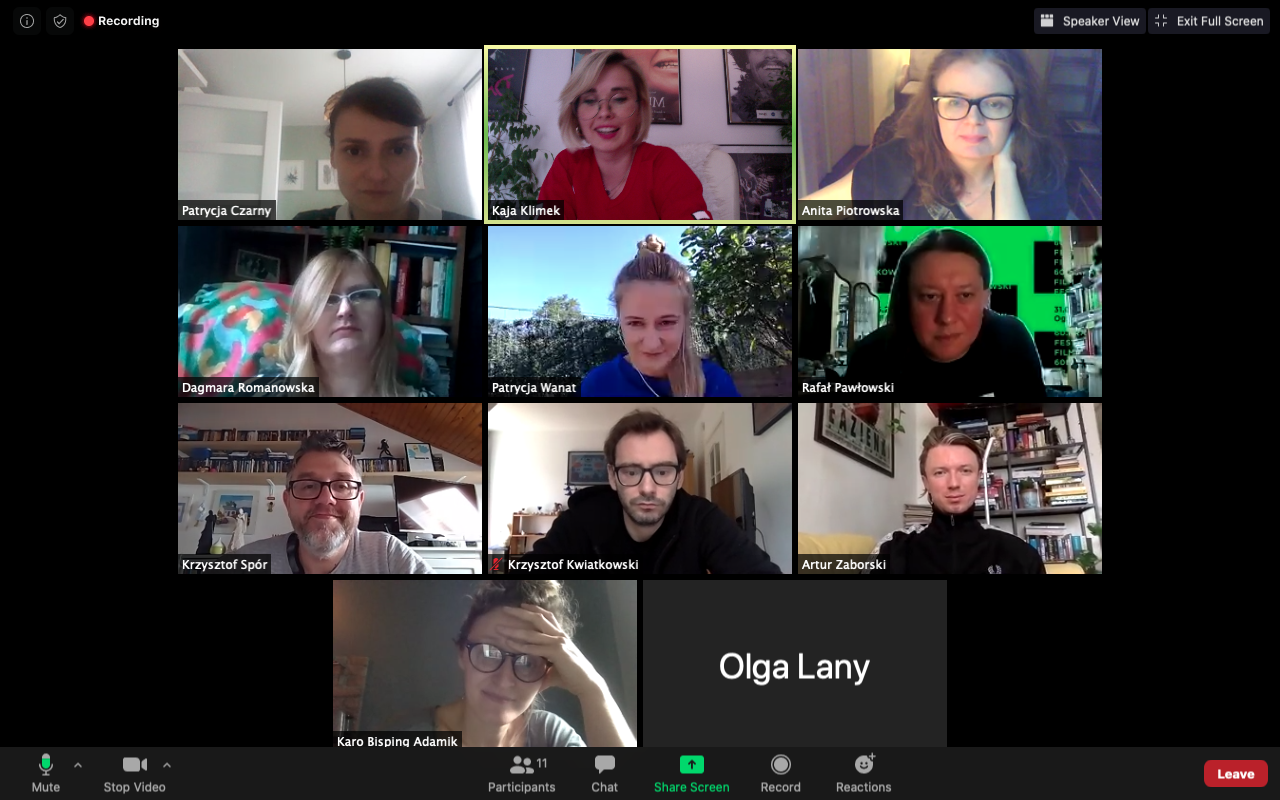 Restrictions also in the documentary world of course. Films are being screened online, industry talks are online, webinars the same, interviews, master classes… No complaints from me… I am used to watch films on my MacBook Pro, when films are to be selected for festivals or to be reviewed on the blog or evaluated for the critics' panel at this festival; a true pleasure I have been invited to take part in for many years. But I have also been in Krakow, in the cinemas together with fellow viewers to sense that special atmosphere you only find in a cinema hall with a large screen, high-quality images and good sound. Nothing compares!
Back to the industry events going online currently. The other day Zane Balcus from the Baltic Sea Docs wrote so well on this on www.filmkommentaren.dk: … "Several of the arguments in favour of or against digital could be experienced at an online visit to Visions du Réel. Nothing of the constituent components of the festival took place physically. I hadn't planned to go to Nyon this year, but the possibility of attending the festival online made me join it. During the festival, I focused more on the industry section, specifically Pitching du Réel and Docs in Progress. While watching previously pre-recorded presentations assembled in blocks and streamed to the participants, the missing element was the energy of live event – the ability to feel and evaluate project representatives in the course of the presentation, presentation form, trailer nuances on a high-quality and large screen with good quality sound, the interaction of moderator with pitchers and decision makers, audience reaction…" She makes no conclusions, and how could we, it is pros & cons. If you do these events online, you can have more people – and if everyone sits at home, it is greener, maybe more effective, some say, for instance Brigid O'Shea from DOKLeipzig, where all industry activities now will be digital – but the human element of meeting each other, profiting from being physically together in group sessions, being inspired by other filmmakers and their comments, this kind of reciprocity you can't create online.
The film screenings online, as you have here in Krakow this year, have been, in terms of numbers, at other already finished festivals, like CPH:Dox in Copenhagen, Munich, DocuDays in Kiev and DocsBarcelona, still running, overwhelming… almost 120,000 tickets in Copenhagen and there will be almost the same in Barcelona. In the mentioned festivals a new audience has been caught, who has welcomed the chance to sit at home watching documentaries when cinemas have been closed. Cinemas… Nothing compares.
Nevertheless, Polish audience, trust me as one who has followed the festival for years: They know what they are doing, the programme has films for everyone, drop television if you have not already done so and pick a film from Krakow Film Festival, you won't regret it, make your own Home Cinema.     
TUE STEEN MÜLLER – worldwide freelance consultant and teacher in documentary matters, the first director of the European Documentary Network (1996-2005), and the co-author of the filmkommentaren.dk blog devoted to documentary films.
Journalists ranking