4.06, 11.00 – 18.00 CEST
KFF Industry Meetings are one-on-one meetings with the festival programmers present, virtually this time, at the Krakow Film Festival. The meetings are aimed at producers, filmmakers and other professionals involved in film promotion and have the form of 15 minutes long individual consultations.
This year's KFF Industry Meetings take place on June 4 between 11.00 and 18.00 on the Zoom platform.
NOTE: Due to the very limited number of places, please book in advance with Małgorzata Kramek, the meetings coordinator – [email protected] Please note that applicants will be handled on a first-come-first-served basis. The registration will close on Sunday May 30. Please remember that you can sign up to a maximum of two rooms and have 6 meetings in a single session. We ask for thoughtful reservations adjusted to your online presence and availability.
ACCESS TO THE ROOMS ON ZOOM (rooms will be open when the event starts):
DOC ROOM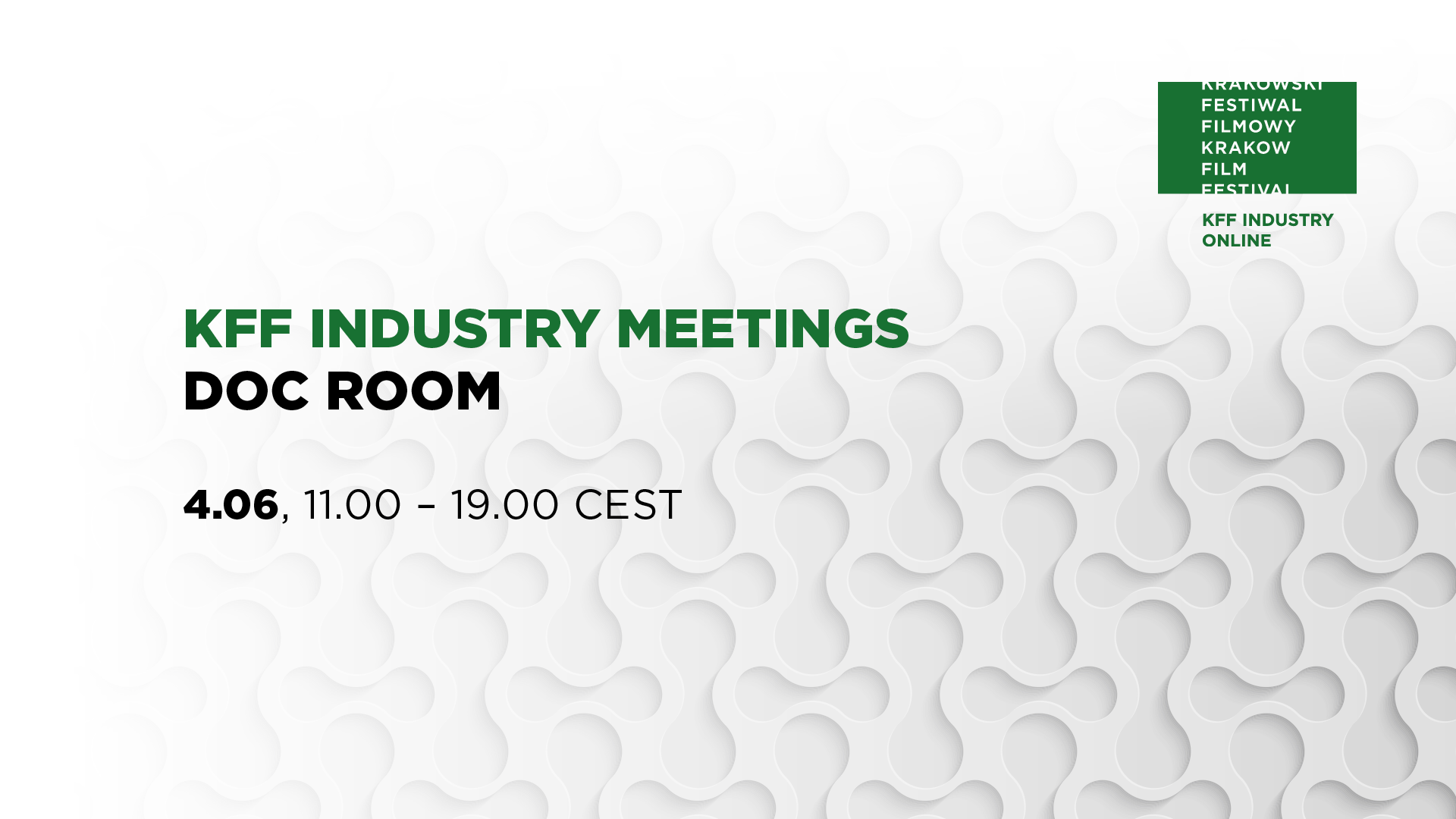 SHORT ROOM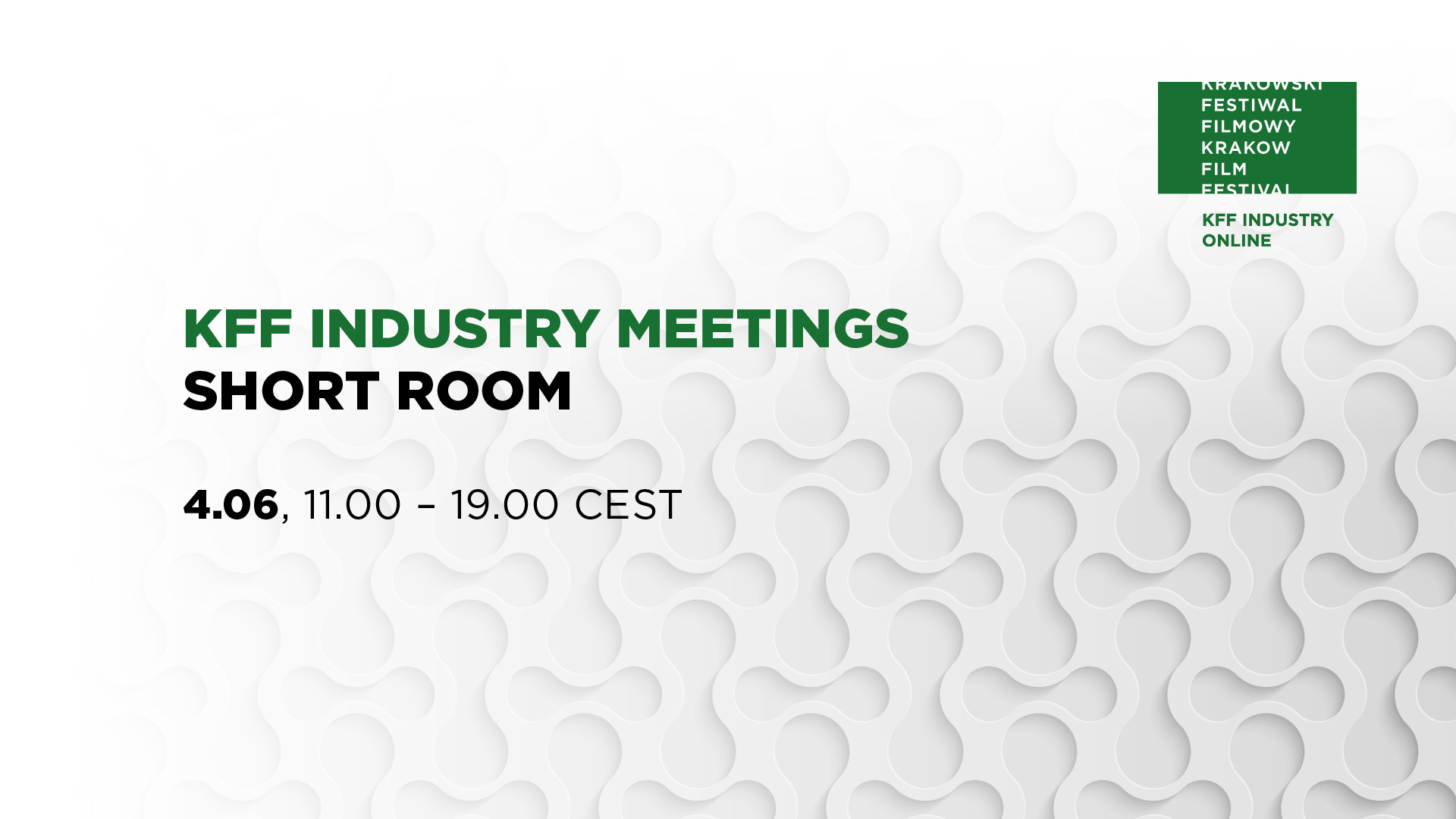 ANIM ROOM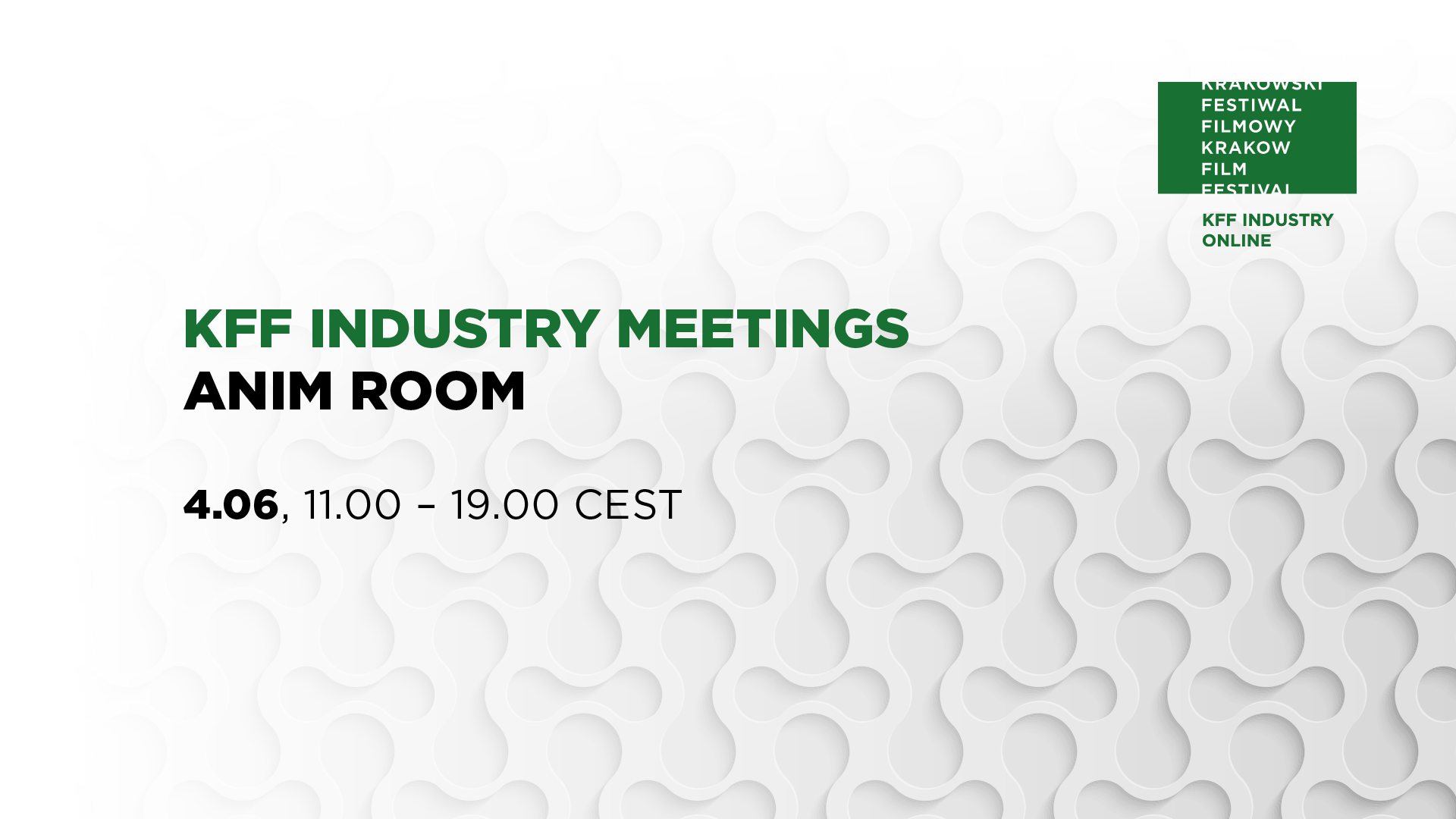 INVITED PROGRAMMERS:
SESSION 1, 11.00 – 12.30 CEST
SHORT ROOM
Mia Falstein-Rush, Melbourne IFF – Australia
MIFF is a not-for-profit organisation that has been continuously running since 1952, making it the leading film festival in Australia and one of the world's oldest film festivals, alongside Cannes and Berlin. Presenting a curated global program of innovative screen experiences and the world's largest showcase of exceptional Australian filmmaking, MIFF is an accessible, iconic cultural event that provides transformative experiences for audiences and filmmakers alike.
Miguel Dias, Curtas Vila do Conde – Portugal
CURTAS VILA DO CONDE – INTERNATIONAL FILM FESTIVAL is one of the most prestigious film festivals in Portugal, reaching its 29th edition on 2021. Short film competitions, special screenings, In focus and retrospective programmes, exhibitions, concerts and several training activities are some of the sections and happenings taking place during 9 days. Presenting over 250 films each year and nearly 100 screenings and 400 professional guests from all over the world.
Kyrylo Marikutsa, Kyiv International Short Film Festival – Ukraine
Kyrylo is a co-founder and festival director of Kyiv International Short Film Festival (KISFF), the biggest international short film festival in Ukraine since 2012.
Science 2015 Kyrylo also works on a project 'KyivMusicFilm' — an independent distribution company that focuses on the theatrical distribution of documentaries about culture and independent future films. It's also the first company in Ukraine that focused on event-cinema content and classic films on the big screens.
DOC ROOM
Jasper Hokken, IDFA: International Documentary Filmfestival Amsterdam – The Netherlands
IDFA is a leading institution dedicated to the art and industry of documentary film and new media. With the IDFA Bertha Fund and filmmaker training programs, IDFA supports filmmakers and connects them across continents, genders and generations. IDFA's festival offers a trend-setting film and new media program that gets 295,000 visits and brings together over 3,000 professionals. IDFA's markets IDFA Forum and Docs for Sale are flagship business events that documentary film professionals never miss.
Thanos Stavropoulos, Thessaloniki IDFF – Greece
Share information, raise awareness, call for action: The Thessaloniki Documentary Festival, among the most important ones in Europe, provides the opportunity to exchange ideas, urging the audience to look at the world with a critical eye.
Lina Dinkla, DOK Leipzig – Germany
DOK Leipzig is one of the leading festivals for documentary and animated film. The festival, being the first in the world to combine these two genres, is built on more than 60 years of history. The event is a celebration of films and Extended Reality works with the highest artistic and innovative approaches to storytelling. The team has always promoted young talent, regardless of gender, origin and point-of-view. DOK Industry Programme supports the creation and circulation of new creative documentary films from all over the world. Exceptional projects are presented every year in a relaxed and open environment.
Jinseok Kang, DMZ International Documentary FF – South Korea
DMZ Docs is a South Korean film festival for documentary films. Launched in 2009, the festival showcases films dealing with "peace, coexistence and reconciliation" accompanied by pitch program for DMZ Docs Fund in the neighboring region with DMZ(Demilitarized Zone). The 12th edition of the festival was held from September 17th to 24th, 2020, presenting 122 movies from 33 countries. Despite its short history, DMZ Docs is growing as one of leading documentary festivals in Asia.
Nir Ferber, Doc Aviv – Israel
The largest film festival in the city of Tel Aviv, and the only festival in Israel dedicated exclusively to documentary films. It is among the world's leading documentary festivals, with over 130 new local and international documentaries screened each year. The program includes several competitions: The Israeli Competition, the International Competition, the Depth of Field Competition, the Shorts Competition, and the Student Competition, as well as themed programs dedicated to music, art, social issues, virtual reality and new technologies. The Festival also holds several industry events, including one-on-one meetings between Israeli filmmakers and international decision makers, and DOC-LAB-TLV, a rough-cut lab with international mentors.
SESSION 2, 12.30 – 14.00  CEST
ANIM ROOM
Igor Prassel, Animateka – Slovenia
Animateka is an international festival that focuses on high quality auteur animated film. Every december it presents the peak production of short animated films from Central and Eastern Europe in our main competition programme, a programme comprising the most original European student films and a programme of carefully selected international films for children and teenagers. Each year it presents various special programmes as well. Animateka's goal is to be a focal point where professionals from both the region and the world can meet, to create collaborations and co-productions, and at the same time attract the interest of the local public and get them to fall in love with the art of animated film.
Jérôme Curchod, Animatou – Switzerland
Animatou was founded in 2006 to promote Swiss and international animation cinema. Active throughout the year, the Association offers a wide range of events tailored to all kinds of audiences around the wonders of this underrepresented art form. The highlight of year comes in the early autumn with the Geneva Animation Film Festival, which takes place around the first and second weekends of October in Geneva, Switzerland.
Karin Vandenrydt, Anima Brussels – Belgium
Anima, the Brussels international festival of animation film, was established in 1982 as a showcase of the world's finest animation films. With more than 300 films, the festival includes national and international competitions of short and feature-length films, retrospectives, tributes and special programmes as well as exhibitions, workshops and a sidebar programme for professionals: Futuranima. Anima is an Oscar© Qualifying Festival for the Short Animated Film Category.
Malcolm Turner, Melbourne IAFF – Australia
The Melbourne International Animation Festival was established more than 20 years ago and has grown to be one of the largest animation festivals in the world screening around 450 films curated into the 30-40 programmes over a 6-8 day period.
 SHORT ROOM
Laurence Boyce, PÖFF Shorts – Estonia
PÖFF Shorts is a vital part of the Tallinn Black Nights Film Festival (PÖFF) with a variety of programmes focusing on short films and animations. It is an Academy Award, BAFTA and EFA Qualifier.
Black Nights is one of the premier film festivals in the world, and an accredited A-List film festival with numerous competitions and a large and fulsome industry programme. It screens many documentaries and is always looking for newly completed projects.
Rich Warren, Encounters ISFF – UK
Encounters is the UK's leading short film, animation and virtual reality festival.  The festival discovers, supports and develops new talent in filmmaking, providing a platform for emerging and established filmmakers from around the world, and continues to be a unique meeting place for the industry. From a one-off celebration to mark the centenary of cinema, to an international success story, Encounters provides an international platform for celebrating talent and innovation in short film, animation and virtual reality. Encounters is proud to be based in Bristol, UNESCO City of Film and acts as an official gateway to the world's most prestigious awards; the Academy Awards®, BAFTAs, BIFAs and the European Film Awards. 
Cato Fossum, Norwegian Short Film Festival – Norway
The Norwegian Short Film Festival is Norway's oldest and most renowned festival for short film, and takes place each year in June in the southwestern coastal town of Grimstad. Our programme includes competition sections for Norwegian and international short film, short documentaries and Norwegian music videos, as well as retrospectives and sidebars. Industry participants gather for talks, seminars, workshops, and master classes. The festival is an important platform for emerging filmmakers and independent cinema, and facilitates contact between filmmakers and the international film community.
DOC ROOM
Sergio Fant, Berlinale – Germany
The Berlinale is a unique place of artistic exploration and entertainment. It is one of the largest public film festivals in the world, attracting tens of thousands of visitors from around the globe each year. For the film industry and the media, the eleven days in February are also one of the most important events in the annual calendar and an indispensable trading forum. The Berlinale accompanies filmmakers of all disciplines on their paths into the spotlight and supports careers, projects, dreams and visions.
Joost Daamen, IDFA – The Netherlands
Over the past 32 years, IDFA has become one of the world's leading documentary film festivals, screening up to 300 documentaries to an audience of over 270,000. IDFA is more than just a screening location for creative documentaries – it is also a place for filmmakers to meet each other and to come in contact with independent producers, buyers and potential financiers. On www.idfa.nl you also find more info on our two professional markets – Docs for Sale (online), a market backed up by an extensive database and catalogue, and the FORUM, Europe's largest pitching FORUM and gathering of commissioning editors and independent producers. IDFA Bertha Fund supports documentary filmmakers and festivals in developing countries.
Denise O'Keeffe, Valladolid IFF – Spain
One of the oldest and most consolidated festivals in Europe, Valladolid International Film Festival (a.k.a SEMINCI and Semana Internacional de Cine de Valladolid) has been held annually since 1956. With a genuine concern for the art of cinema, for film-making and filmmakers rather than the commercial or glamourous aspects of the industry, the Festival has built up an identity of its own, equally attractive to film enthusiasts, professionals and the media. Dates for 2021 are October 23rd – 30th.
Oliver Wright, Open City Documentary Festival – UK
Celebrating the art of non-fiction, Open City Documentary Festival creates an open space in London to nurture and champion the art of creative documentary and non-fiction filmmakers. We aim to challenge and expand the idea of documentary in all its forms. We provide a platform for emerging talent as well as established masters working within the documentary form. Over 7,500 people attended last year's festival which took place online. The eleventh edition of the festival will take place between 8th – 14th September 2021.
Frank Moens, Docville – Belgium
DOCVILLE is a Belgian, annual documentary film festival aimed at author driven, exciting documentaries that look great on a giant screen. We have a soft spot for science related documentaries, 7.1 immersive experiences and storylines that people won't believe it actually happened. But really, all great docs are welcome. Next to DOCVILLE the same organisation is home for Dalton Distribution, an all rights Benelux distributor for documentaries and short film. Latest addition is the SVOD platform dalton.be, aimed to bring (often unreleased) festival titles to the streaming world.
Barbora Hudeckova, One World IHRDFF – Czechia
One World is considered to be one of the largest human rights documentary film festival in the world. It is held in Prague, more than 20 Czech towns and in Brussels. One World shows documentaries on human rights, social, political, environmental and media issues and includes Q&As, talks, VR exhibitions, screenings for schools. Cooperates with the East Doc Platform for film industry. One World distributes documentary films, assists to emerging festivals, cares about the audience with disabilities. Is an active member of Human Rights Film Network and Green Film Network.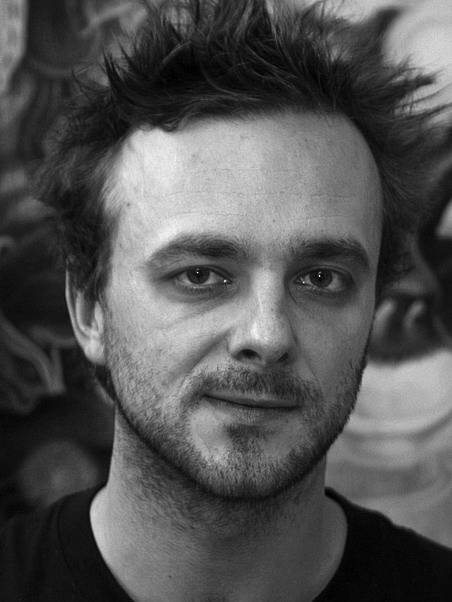 SESSION 3, 15.00 – 16.30 CEST
 ANIM ROOM
Abigail Addison, Edinburgh IFF – UK
Established in 1947, the Edinburgh International Film Festival is renowned around the world for discovering and promoting the very best in international cinema – and for heralding and debating changes in global filmmaking. Intimate in its scale, ambitious in its scope, and fuelled by pure passion for cinema in all its manifestations, EIFF seeks to spotlight the most exciting and innovative new film talent, in a setting steeped in history.
https://www.edfilmfest.org.uk/
Waltraud Grausgruber, Tricky Women/Tricky Realities FF – Austria
Since 2001 TRICKY WOMEN/TRICKY REALITIES takes place every year in March around the date of the International Women's Day. TRICKY WOMEN/TRICKY REALITIES focuses on animated films made by women* and therefore fills a unique position within the international festival landscape. Besides the competition the festival shows themed programs and retrospectives to present an exciting overview of the animated cinematic art of female artists from around the world and Austrian filmmakers as well. Historical curiosities and contemporary productions are part of TRICKY WOMEN/TRICKY REALITIES' programming.
Kamila Dohnalova, Anifilm – Czechia
Anifilm, International Festival of Animated Films, is the largest event dedicated to animation in Czechia. The festival mission is to present current trends to the wide audience of over 30.000 unique attendees. There are 7 International Competition categories and 5 Czech Horizon categories of National Competition. Beside the festival's own industry programme there is CEE Animation Forum Pitching taking place simultaneously.
SHORT ROOM
Lenka Tyrpakova, Prague Shorts – Czechia
The Karlovy Vary International Film Festival is the largest film festival in the Czech Republic and the most prestigious such festival in Central and Eastern Europe. Every year, the festival presents some 200 films from around the world, and regularly hosts famous and important filmmakers. The Karlovy Vary festival is intended for both film professionals and the general public, and offers visitors a carefully designed programme, excellent facilities and a broad range of other services.
Olga Artemyeva, Moscow FF – Russia
The Moscow International Film Festival (MIFF) is one of the oldest in the world, held in 1935 for the first time. The festival has been held annually since 1999. The festival's top prize is the statue of Saint George slaying the dragon. MIFF has three competition programs – Main Competition, Documentary Competition (Oscar qualifying status), Short Films Competition, and a variety of out of competition sections, including retrospectives, a program of notable documentary films "Free Thought", and Short Film Corner section which showcases both international and national shorts.
Christoffer Ode, Uppsala ISFF – Sweden
Founded in 1982, Uppsala Short Film Festival has since become Sweden's premier arena for short film and one of the most important short film festivals in Europe. The festival screens more than 300 short films, from new film to retrospectives, fiction film, documentaries and experimental film to animations. The festival is recognised by Academy of Motion Picture Arts and Sciences, the European Film Academy and BAFTA.The 40th Uppsala Short Film Festival takes place during the 25-31 October 2021.
Carlo Migotto, Lago FF – Italy
Founded in 2005 in the daily urban metabolism of the fascinating lake town of Revine Lago (Italy) and now at his 17th edition Lago Film Fest is an international short films, documentaries and animations. Ten days of talks, videos, workshops, artistic performances, live music and special guests on the lake shores, among stone houses. A unique experience, out of time, that cannot be fully understood without living it in person. Lago Film Fest is a cinematographic Woodstock, a big film whose protagonist are the stories that ripple lake' surface. An imaginary real dimension where cinema is at the same time a file rouge and a chance to meet, to experiment and to create.
Mathieu Janssen, Go Shorts – The Netherlands
Go Short is the main short film festival in the Netherlands. During the five festival days Europe's best recent short films will be screened and the Go Short Awards will be presented. Aside from the competitions Go Short offers an extensive program of events, talks, workshops, parties and meeting points for the film makers, the public and other stakeholders. Go Short is a gateway to the Oscars, EFA and BAFTA's.
Takashi Homma, Sapporo ISFF&M – Japan
Sapporo International Short Film Festival & Market is founded in 2006. One of the most important short films festival in Japan. The festival is the best creative platform for talented young and multi-disciplinary creators. International competition will deliver GP and about 20 category awards.
Jukka-Pekka Laakso, Tampere FF – Finland
Tampere film festival is a short film festival in Tampere, Finland. It had its 51th edition, the digital version, in March 2021. The festival aims to be back to old off-line verion again March 2022. Tampere FF is considered to be one of the most important short film festivals in the world. The heart of the programme is formed by International and National Short Film Competitions. The festival receives approximately 6000 submissions annually. Out of those, ca 60 films from ca. 40 countries are selected for International competition. We welcome all genres as long as the films are under 30 minutes in duration. Tampere Film Festival's International Competition is an Oscar®, BAFTA and EFA qualifying short film competition.
DOC ROOM
Emmanuel Chicon, Visions du Réel – Switzerland
Visions du Réel presents a majority of world or international premieres through in a very varied programme. The Festival is also a stepping stone for new talents and narrations, notably in the Burning Lights competition. We also offer masterclasses, debates with film directors, meetings with professionals and Industry activities, one of the most important in Europe. Visions du Réel's Industry selects and promotes films at every stage of their development and offers a key networking platform for professionals from all around the world.
Rohan Crickmar, Edinburgh International Film Festival – UK
Edinburgh International Film Festival has brought ground-breaking, exciting and original films from all over the world to enthusiastic and engaged UK audiences and a wide variety of press and industry guests and delegates since 1947. The festival seeks to discover and showcase the most creative and innovative developments in world cinema, bring filmmakers to local, national and international attention, and provide a dynamic and responsive platform for engagement with industry and audiences.
Nicoletta Romeo, Trieste FF – Italy
The Trieste Film Festival is the only Italian festival focusing on Central and Eastern European cinema. 3 competitive sections: feature films, documentaries, and short films, only Italian premieres. Industry programme: 'When East Meets West', a unique co-production forum, with whom we co-organise 'Last Stop Trieste', (rough cuts of documentary films) and 'This is IT' (work in progress session of Italian feature films). Also: VR Day, masterclasses, exhibitions, special events, script training programmes and film literacy programmes.
Sergio Gomes, Porto Post Doc – Portugal
Porto/Post/Doc: Film & Media Festival is a cinema of the real festival in Porto. Between Porto and the world, fiction and documentary, Porto/Post/Doc presents the usual competitions (International Competition and Cinema Novo Competition), which aim to reveal the most hidden pearls of contemporary cinema. In the Transmission program, the festival reinforces once again the connection between music and cinema showing films that play and are listened, among biopics or concerts. And because we look at the world with our feet settled in Portugal, Porto/Post/Doc also presents a section aimed at the exhibition of Portuguese-speaking films and from our Spanish neighbours. 
Veton Nurkollari, Dokufest Kosovo – Kosovo
DokuFest, International Documentary and Short Film Festival is the largest film festival in Kosova. Founded in 2003 with the aim of revitalizing culture cinema in Prizren, DokuFest grew and expanded into a leading film and music event in Southeast Europe and from 2020 is a BAFTA qualifying festival for short films. Each summer, DokuFest fills the cinemas and improvised screening venues around the historic city of Prizren with a selection of more than 200 hand-picked films from around the world, as well as attracting numerous international and regional music acts that perform at DokuNights — its music strand.
Petrula Veljanovska, Makedox – Macedonia
MakeDox is an association of citizens who aim to promote and stimulate creative documentary filmmaking. The first edition of the MakeDox festival was held in 2010, prompted by the enthusiastic actions of a group of devotees of creative documentarism. In the next eleven years, MakeDox evolved in an established national, as well as regional and international, manifestation of creative documentaries distinguished by its uniqueness and exceptionality. Today, MakeDox is a festival which is praised by its audience and each of the attendees. Annually, MakeDox presents a program of the best creative documentary films, organizes workshops, debates, master-classes, photo-exhibitions and music performances. 
Mara Prohaska Markovic, Beldocs – Serbia
International Documentary Film Festival Beldocs was founded in 2008 and based on the idea that the documentary form has a special power to inspire people to think, create, and believe in change. The main goals of Beldocs are to develop, support, promote, network, and educate in the field of international documentary film. As a Festival meeting point, Beldocs is recognized as the place for best national and world creative documentaries, that gives a comprehensive overview of the recent worldwide documentary production, discovers, and reveals the new voices and on the other side strengthens, develops, and supports the industry of the region.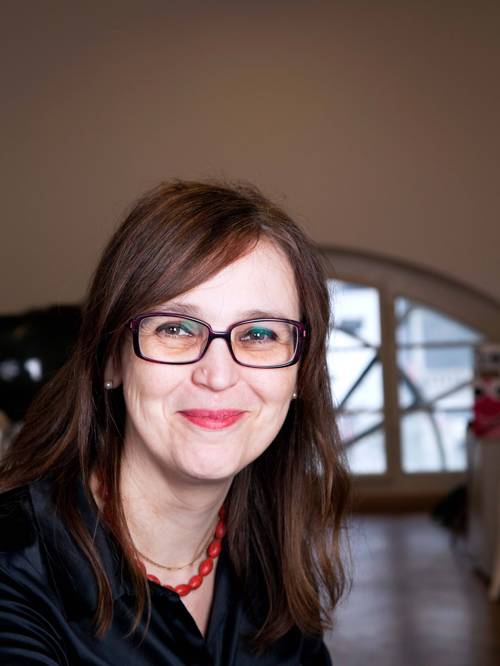 SESSION 4 16.30 – 18.00 CEST
ANIM ROOM
Ivana Sujová, FestAnca – Slovakia
Fest Anča is the only Slovak festival focused on animated film for a wide audience, which has been taking place in alternative cultural spaces in Žilina for thirteen years. It primarily focuses on the presentation of international and Slovak animation, while the professional program focuses on the development of young talents and students. The competitive programme comprises a selection of the stand-out animated films in international short films, music videos, and films for children.
Marcos Magalhaes, Anima Mundi / Animando – Brazil
ANIMANDO is a content generator enterprise with more than three decades experience in producing films, videos and educational events in the field of animation. Its founder and director, Marcos Magalhães, is an internationally awarded animator and also one of the founders and curators of Anima Mundi, the International Animation Festival of Brazil.
Mihai Mitrica, Anim'est – Romania
Animest International Animation Film Festival is the only festival in Romania dedicated to animated film. It was founded in 2006, and gathers films from all over the world, in six competitive categories both for short and feature film, ample retrospectives and focus on various countries, animation studios and film schools. Every year it welcomes to Bucharest international filmmakers, producers, festival programmers and journalists. Workshops, masterclasses, special events, concerts and parties are open to the festival guests and audience.
SHORT ROOM
Jason Anderson, Toronto IFF – Canada
The 46th annual edition of the Toronto International Film Festival runs Sept. 9-18. TIFF is dedicated to presenting the best of international and Canadian cinema and creating transformational experiences for film lovers and creators of all ages and backgrounds. As Canada's premiere home of cinema, TIFF offers screenings, lectures, discussions, festivals, workshops, events, professional development and opportunities to meet, hear and learn from filmmakers from Canada and around the world. One of the many programs presented as part of the festival every September, Short Cuts is an annual program celebrating the best in shortform cinema.
Émilie Poirier, Montreal Festival du Nouveau Cinéma – Canada
Montreal Festival du nouveau cinéma (FNC) champions the latest practices in cinema and new technology with an international program of over 300 films, multimedia installations, performances, conferences and events. www.nouveaucinema.ca
Jorge Rivero, Aguilar Film Festival – Spain
Aguilar Film Festival is one of the most well-known short film festivals in Spain, and it takes place in December 3-12 in Aguilar de Campoo (Palencia). This year the festival reaches its 33th edition. Aguilar Film Festival main competition join a selection of 40 international short films, and other competitions focus on Rural / Ethnographic films, Spanish films and local films. The fastival also organizes several industry activities beside the screenings.
Nina Rodriguez, Guanajuato International Film Festival – Mexico
Over the past two decades, the Guanajuato International Film Festival has placed itself as the most important platform for young filmmakers in Latin America. Beginning in 1998 in San Miguel de Allende and Guanajuato City, GIFF offers an extensive selection of screenings, workshops, conferences and concerts that are free of charge for the audience. It's also an essential destination for international film industry professionals for a wide variety of networking opportunities.
Felipe Montoya, Bogoshorts – Bogotá Short Film Festival – Columbia
The Bogotá Short Film Festival is celebrated annually in the first two weeks of December, presenting shorts with high-quality filmmaking, authentic stories and styles, engaging with an audience of around 40.000, that includes industry members, film students and film lovers with diverse backgrounds, from the city of Bogotá, other cities in Colombia an significant international visitors. The festival has Colombian, International, VR and Fantasy competitions, and several out of competition sections with guest festivals, cities and countries, thematic specials, and films for children screening in 15 venues across Bogotá.
Helene Stergiopoulou, Drama ISFF – Greece
Drama International Short Film Festival is Greece's leading short film festival, and the annual meeting place for filmmakers and industry professionals. Based in the picturesque city of Drama in Northern Greece, the festival is the leading Greek and South-Eastern European gateway to the world's most prestigious short film awards, and nominated filmmakers qualify for the European Film Awards (EFA). DISFF presents an annual National, International, Student and (first year) Animation Competition showcasing the best new films from Greece and around the world, as well as parallel events including pitching lab, film market, interviews, masterclasses, concerts, book presentations, panels and networking opportunities for filmmakers and professionals.
Lisa Ogdie, Sundance FF – USA
The Sundance Film Festival takes place each year in Utah. The festival brings the most original storytellers together with the most adventurous audiences for its annual program of dramatic and documentary films, installations, performances, panel discussions, and music events. Since 1985, hundreds of films launched at the festival have gained critical recognition, received commercial distribution, and reached audiences worldwide.
DOC ROOM
Inti Cordera, DocsMX – Mexico
DocsMX, a non-profit organization, considers documentary film as a powerful tool for social transformation, a tool to facilitate and visualize everyday reality, a tool with endless possibilities to shift our consciousness, broaden horizons and build community. DocsMX is a documentary film platform comprised of four components: exhibition, creation, training and festivals. The strategic partnerships and outreach program began in 2018 to establish partnerships with documentary filmmakers and organizations, foundations and schools amongst many others, who work closely with various social issues. We believe that working together and united will ultimately create a stronger impact.
Ania Trzebiatowska, Sundance Film Festival – USA
The Sundance Film Festival brings together the most original storytellers and the most adventurous audiences for its annual program of dramatic, documentary, and short films; New Frontier films, performances, exhibitions, and virtual reality experiences; episodic storytelling; lively filmmaker conversations and panel discussions; and dynamic music events.
Shane Smith, Hot Docs – Canada
Hot Docs Canadian International Documentary Festival is North America's largest documentary festival, conference and market. Each year, the Festival presents a selection of approximately 230 cutting-edge documentaries from Canada and around the globe. Our mission is to advance and celebrate the art of documentary, and to showcase the work of and create production opportunities for documentary film.
Alborz Arzpeyma, Festival de Nouvaeu Cinema – Canada
A lively, bold, popular, innovative event! For 50 years, the FNC has been showcasing national and international auteur cinema, treating audiences to works of diversity and originality by emerging and major filmmakers. Our focus on the NEW is threefold: new creators, new approaches and new technologies. Dean of Canadian film festivals and a major Quebec event, the FNC presents every year over 200 works from 60 different countries to celebrate the best of today's cinema!
Margje de Koning, Movies That Matter – The Netherlands
Movies that Matter wants to open eyes to human rights by offering a stage for poignant fiction films and revealing documentaries that stir debates about human rights, sustainability and the fight against injustice. In the last week of March, the Movies that Matter Festival takes place at Filmhuis Den Haag and Theater aan het Spui in The Hague. We combine our film screenings with Q&As, introductions or discussions on related topics. From October until May, festival favourites tour the country in the Movies that Matter On Tour programme. Each year we reach more than 175.000 pupils and students with our educational programme. Also, we support organizers of human rights film festivals in countries where press freedom is limited.
Hubert Sabino, Montreal International Documentary Festival RIDM – Canada
Based in Montreal, a city that has produced some of the most important documentary filmmakers in the history of cinema, the RIDM seeks first and foremost to promote and reflect on the most stimulating and diverse visions of documentary cinema. From works dealing with hot-button issues to daring creations that renew the language of cinema, the RIDM's selections are aimed at an annual renewal of our relationship with the world and with the documentary as an art form.