KFF Industry – the insider part of the 61st Krakow Film Festival took place in the first week of June. As every year, it was filled with some of the most interesting events of the documentary and animation industry.
Pitch sessions, workshops, presentations, panel discussions, networking meetings, the CEDOC Market – co-production meetings and the KFF Video Library filled all days of KFF Industry, this year held mostly online, although we also managed to spend some time offline during industry afternoons at the Festival Centre. All KFF Industry events took place between 31 May and 5 June.
ANIMATED IN POLAND
Just like last year, Animated in Poland began before the festival – it was preceded by a pre-pitch workshop for everyone involved. Similarly to the previous edition, the training was led by Wim Vanacker – a member of the selection committee for the short film competition at the Cannes IFF and former Head of the Script Department at NISI MASA and the European Short Pitch, one of the major short film pitching events in Europe.Seven projects took part in this year's pitching, moderated by Zofia Jaroszuk. Three main distinctions were awarded – the project "All My Effing Superheros", directed by Piotr Kabat, received the Sound Mind Studio Best Pitch Award – a voucher issued by Sound Mind Studio covering 10 days of sound post-production. Another winning project was Joanna Kożuch's "Once There Was a Sea", which received the Fixafilm Best Pitch Award in the form of a voucher for image post-production services valued at PLN 10,000 pln at Fixafilm. In turn, the Crew United Award, a five-year Crew United premium subscription for the director and producer, went to the project "Eyeshroom", directed by Małgorzata Wowczak (prod. Animation Film Studio in Krakow – Jan Matejko Academy of Fine Arts). After the presentations, all participants attended one-on-one meetings with representatives of the film industry, festival programmes, international sales agents, and representatives of foreign TV stations, i.a. Kaboom Animation Festival (The Netherlands), Animateka (Slovenia), Animatou (Switzerland), Melbourne IFF and Melbourne Animation FF (Australia), Anima Brussels (Belgia), Edinburgh IFF (Scotland), Uppsala IFF (Szweden), Tricky Women FF (Austria), Fest Anca (Slovakia), London IAF (UK), Anim'est (Romania), Clermont-Ferrand ISFF (France), Anifilm (Czech Republic), Toronto IFF (Canada) and Anima Mundi FF (Brazylia).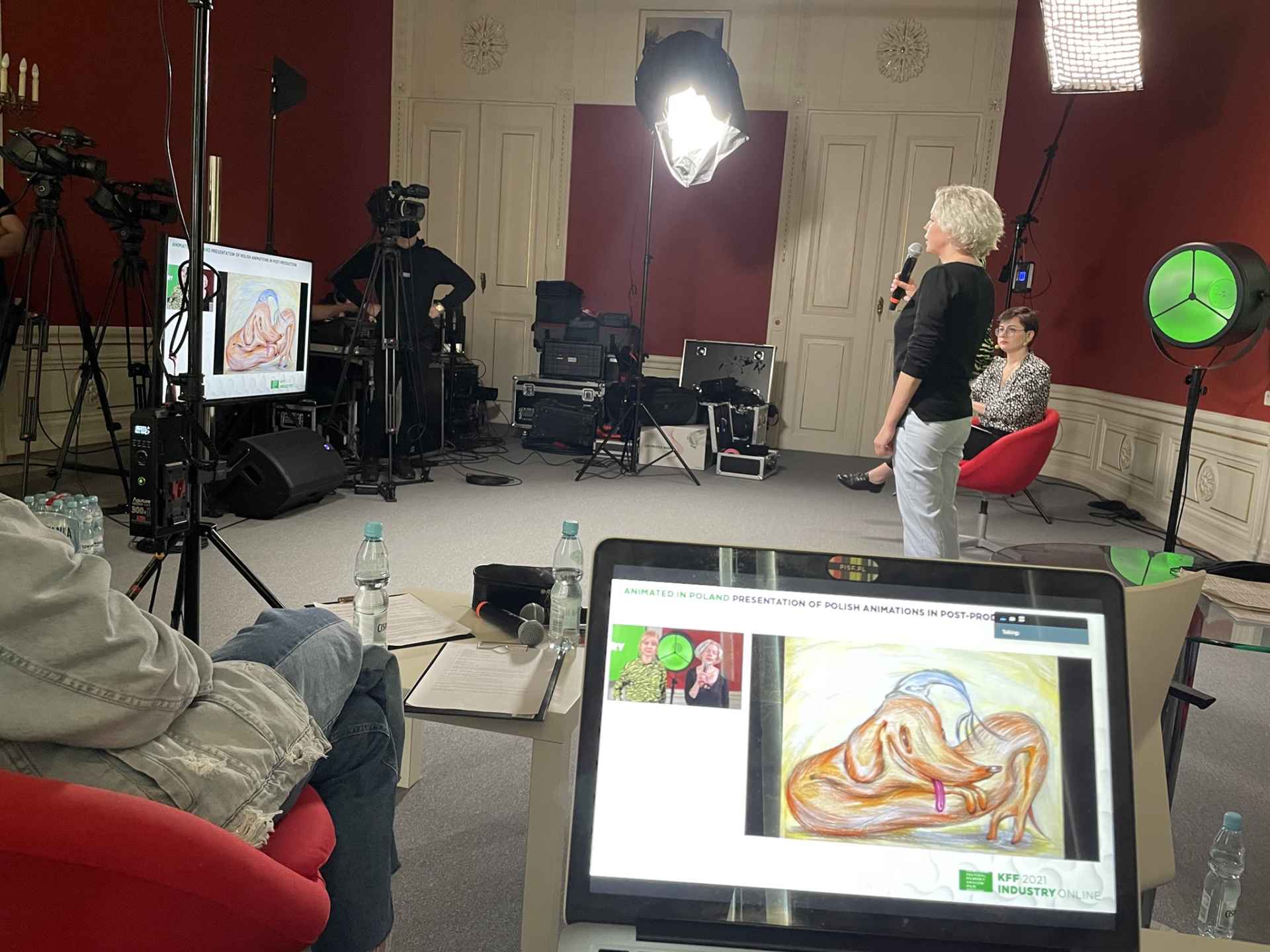 The Talent Market was a part of Animated in Poland prepared in cooperation with the Polish Animation Producers Association. It's an event tailored to the needs of animation artists, as well as art students and graduates who are just planning to start a career in the industry. During this year's Talent Market, artists in need of producers for their projects had the opportunity to meet with representatives of seven animation studios – Animoon, Krakow Animation Center, EGoFilm, Dash Dot Creations, KAZstudio, Letko, and Pigeon, and present both their films and portfolios.
The Talent Market also featured two workshops prepared in collaboration with Pigeon Studio: "The Language of Animation. The means of expression available in animation: sound, movement, pacing, and their influence on narration", led by Sławek Wydra – Creative Director at Pigeon Studio, teaching the participants how to tell a story and craft its atmosphere – including means other than the image itself. Together they also developed scenes by only describing movement, pace, voiceover, and background music. The second workshop was titled "Pre-production. From a brief to a production crew", led by Mikołaj Błoński – Production Manager at Pigeon Studio, who introduced participants to the basics of estimating the scope of tasks, building team structure and competences, project budgeting, and scheduling.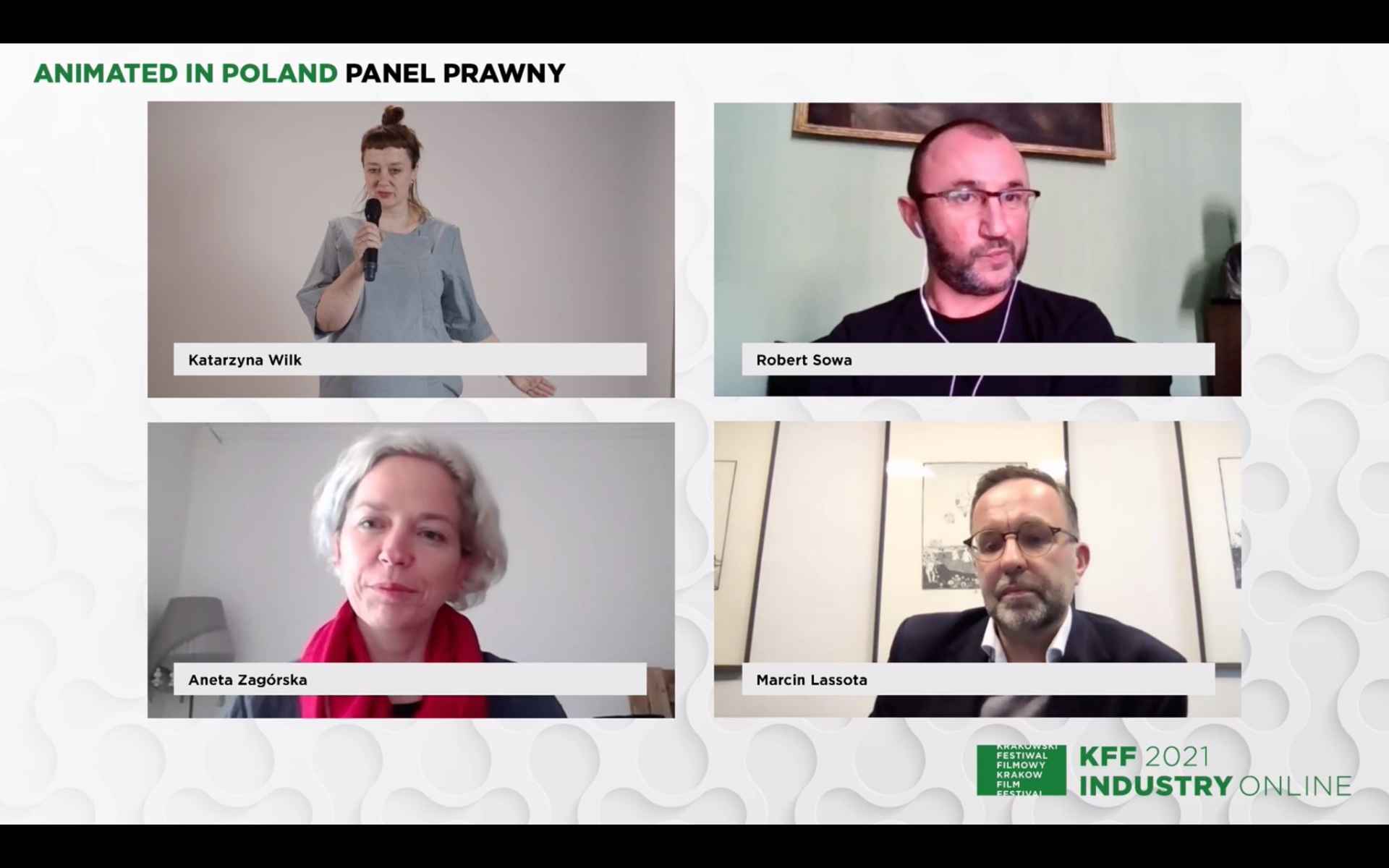 As every year, there was also a legal panel developed in cooperation with the Krakow Animation Center, Krakow Film Cluster, and the Lassota Krawiec sp.j. law firm – "Music from the Internet – legal music". The guests of atty Marcin Lassota included Aneta Zagórska, film producer and president of the Krakow Film Klaster, and Robert Sowa – Head of the Animation Film Studio at the Jan Matejko Academy of Fine Arts and artistic director of the Krakow Animation Center.
DOCS TO START, DOCS TO GO! PITCHINGS, CEDOC MARKET
This edition saw the seventh session of the DOC LAB POLAND workshops, co-organised by the Władysław Ślesicki Film Foundation, held as part of KFF Industry. Before the pitching, the participants of the selected 20 documentary projects participated in workshops and consultations with foreign tutors – Adriek Van Nieuwenhuijzen (IDFA Forum) Hanka Kastelicova and Agnieszka Niburska (HBO Europe), Rada Sesic (Sarajevo FF), Leena Pasanen (Biografilm Festival), producers – Andźka Wydra, Christian Popp, and Paul Pauwels, and filmmakers – Jacek Bławut, Lidia Duda, Paweł Łoziński and Małgorzata Świderska. The workshops culminated in two pitching sessions: DOCS TO START and DOCS TO GO!
The DOCS TO START pitching is a presentation of film projects in development or in early days of shooting. Its aim is to acquire potential co-producers and funding necessary for further production. Attendees presented their projects to producers, representatives of TV broadcasters, regional film funds, and film co-financing institutions, as well as selectors from the most important industry events in the world. A total of 12 projects were presented during DOCS TO START and the pitching was led by Kasia and Adam Ślesicki.
After the pitching, project representatives held three-hour one-on-one meetings with potential partners, i.a. DOK Industry, Canal+, Doclisboa Industry, DOK Incubator, East Doc Platform, Emerging Producers, Agora Doc Market, Docs Barcelona Industry, Baltic Sea Forum for Documentaries, HBO Europe, Visions du Reel Industry – Pitching du reel, Hot Docs Forum, RIDM Forum, Sunny Side of the Doc, nutprodukcja, YUZU, Schiwago Film, Neue Celluloid Fabrik, Saxonia Entertainment, Doppelplusultra, Marx Film, House of Real.
DOCS TO GO! is a joint initiative of the Polish Film Institute and the Krakow Film Foundation in cooperation with the Władysław Ślesicki Film Foundation. The aim of the pitching is to present and promote the most interesting Polish documentary films currently in post-production and expected to release in the near future. Producers and directors of selected projects had the opportunity to present fragments of their films' rough to distributors, sales agents, representatives of TV stations, film festival programmers, as well as other experts and decision-makers present at the one-on-one meetings, i.a.: Berlinale (Germany), Visions du Réel (Switzerland), Ji.hlava IDFF (Czechia), DOK Leipzig (Germany), Festival dei Popoli (Italy), Doclisboa (Portugal), Hot Docs (Canada), Docville (Belgium), Karlove Vary IFF (Czechia), One World International Human Rights Film Festival (Czechia), Thessaloniki Doc Festival (Greece), IDFA (The Netherlands), Docaviv (Israel), IDA London (UK), Edinburgh IFF (Scotland), Porto Post Doc (Portugal), Docudays UA (Ukraine), DocsMX (Mexico), RIDM (Kanada), DMZ IDFF (South Korea), Sundance FF (USA), DOC NYC (USA), Open City Documentary Festival (UK), Docudays UA (Ukraine), CPH:DOX (Denmark), Rise and Shine (Germany), Film Republic (UK), Reservior Docs (France), Taskovski Films (UK) Cat'n'Docs (Francce), Windrose (France). First Hand Films (Switzerland), Sideways Film (UK), Syndicado (Canada), Berta Film (Italy), JMT Films (Israel), Lightdox (Switzerland), Met Film Sales (UK), Visible Film (Belgum), DOK INCUBATOR (Czechia). Eight projects were presented during this year's 10th edition of DOCS TO GO! The pitching was hosted by Katarzyna Wilk and Adam Ślesicki.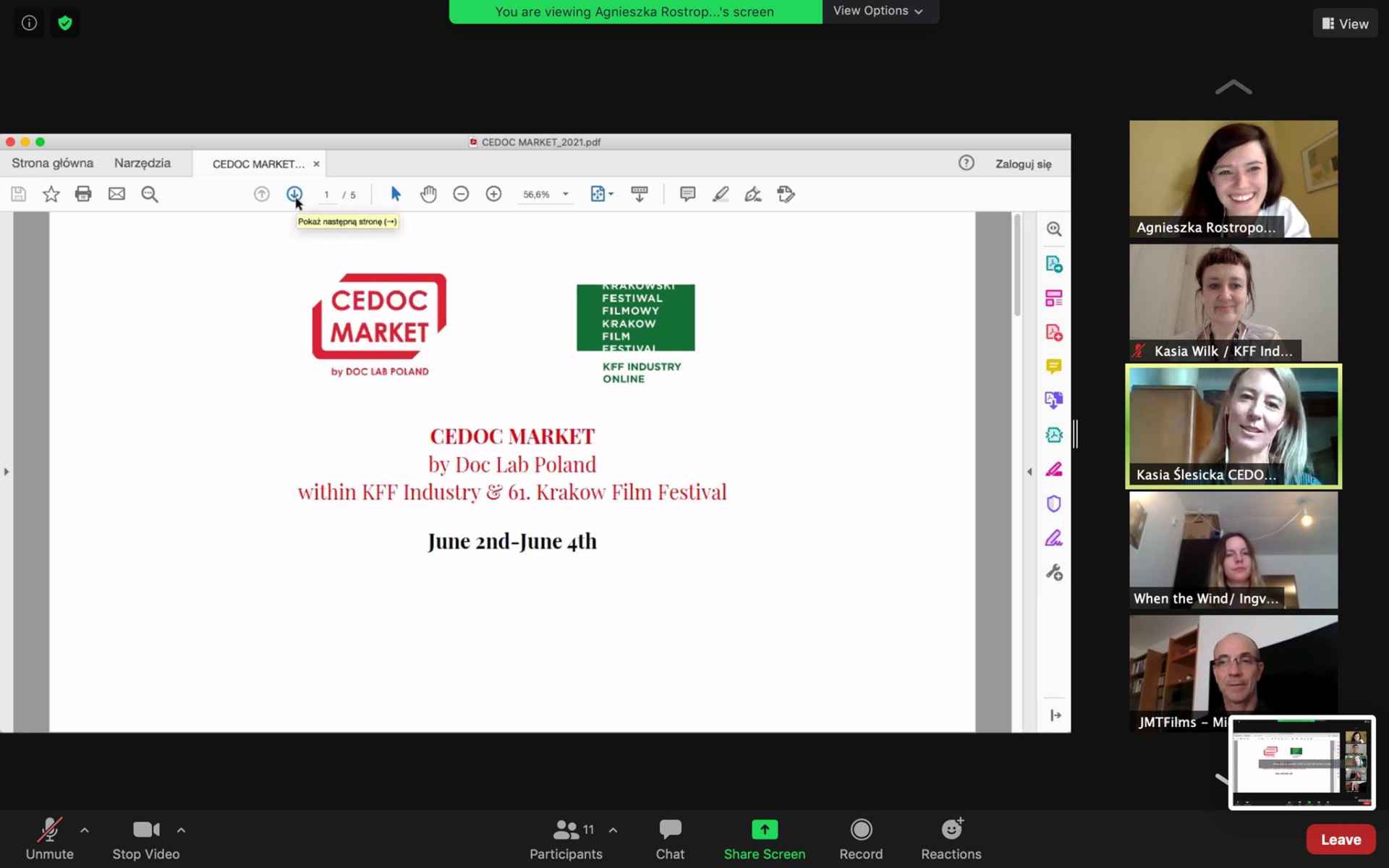 Doc Lab Poland saw four awards and three distinctions granted to the best projects presented at Docs to Go and Docs to Start. During the Docs to Go session, the Lunapark Award – an image post-production service worth PLN 15,000 went to "Old Hippies Die Young", directed and produced by Zofia Pręgowska (Prego Media). In turn, the Institute of Documentary Film Award – an invitation to East Doc Platform went to "Leon", dir. Wojciech Gostomczyk, prod. Wojciech Gostomczyk, Anna Stylińska – Metrage Studio. At the Docs To Start session, the HBO Award of PLN 10,000 for film production went to "Papa Was a King of Congo", dir. Joanna Ratajczak, prod. Maciej Kubicki, Joanna Ratajczak (Telemark). The SMAKJAM Award – an image postproduction service worth PLN 25,000 went to "Step by Step", dir. Eliza Kubarska, Michał Woroch, prod. Monika Braid (Braidmade Films). On the other hand, the MX35 Award, a film equipment rental service worth PLN 10,000, was granted to "Child of Dust", directed and produced by Weronika Mliczewska (Ya-Man Studio). The DOK Leipzig Special Mention – an invitation to DOK Co-pro Meetings went to "Girl's Stories", dir. Aga Borzym, prod. Marta Dużbabel, Agnieszka Rostropowicz-Rutkowska (Pinot Films). There was also an additional special distinction – covering both sessions – the Polish Docs Pro Special Mention – involving international promotion and an invitation to one of international documentary industry events. It was awarded to "Base 13", dir. Paweł Hejbudzki, prod. Wojciech Karubin (Movie Mates).
Another KFF Industry industry event co-organised by the Władysław Ślesicki Film Foundation was the CEDOC Market – international co-production meetings for invited producers who are open to cooperation with Poland, including producers from Norway. In total, 30 projects from all over the world qualified for the Market. During the meetings scheduled over three days, producers were given the opportunity to talk to potential partners from the Netherlands, Qatar, Germany, Slovakia, and Italy. Topics focused on women's cinema were discussed with experts during the round table Spolight: Women in Documentary Film, moderated by Agnieszka Zwiefka, which featured Wendy Ettinger (Chicken&Egg Pictures, USA), Alessia Sonaglioni (EWA Networks, France), and Debra Zimmerman (Women Make Movies, USA). There was also a Meet DAE meeting – a presentation of the activities of the Documentary Association of Europe – a new organisation bringing together representatives of the documentary industry from Europe – led by Joanna Solecka (Alpha Panda) and Julianna Ugrin (Éclipse Film / MADOKE).
PRESENTATIONS AND MEETINGS WITH EXPERTS
Focus on Norway
Norwegian cinematography was a special guest at this year's 61st Krakow Film Festival. The "Focus on Norway" program featured screenings of selected recent Norwegian documentaries, shorts, and animated films. The Focus on Norway presentation itself was an important industry event in this segment – showing co-production opportunities with Norway and the panorama of Norwegian film festivals.
Ravn Wikhaug from the Norwegian Film Institute presented basic issues involved with creating an international co-production when applying for support from the Norwegian Film Institute, while Lisa Therese Hoen (Tromsø International Film Festival), Ketil Magnussen (Human International Documentary Film Festival), Paul Rene Roestad (Nordic / Docs), Cato Fossum (Norwegian Short Film Festival), and Per Fikse (Minimalen Short Film Festival) talked about their festivals – the way they are prepared, how selection is done, and how they're organised.
The event was moderated by Truls Lie, editor-in-chief of Modern Times Review. The Norwegian Film Institute and the Norwegian Embassy were both partners of the presentation.
Documentary and Animation Forum
Due to the COVID-19 pandemic, this year's Documentary and Animation Forum was held in the form of an online panel with a limited audience present in Krakow. Its topic was the distribution of films in times of pandemic. Guests included Aleksandra Derewienko – CAT&Docs sales agency, Michał Hudzikowski – promotion and distribution at Munk Studio, Maciej Jakubczyk – director of the Kids Kino International Film Festival, Andrzej Orzechowski – animation section of the Polish Filmmakers Association (SFP) and long-term director of Studio Filmów Rysunkowych in Bielsko-Biała, Tomasz Piechal – editor-in-chief at TVP Dokument, and Katarzyna Wilk – deputy director of KFF Sales and Promotion, Krakow Film Foundation. The discussion was moderated by Dagmara Romanowska. The Documentary and Animation Forum was organised by the Polish Filmmakers Association in cooperation with the National Chamber of Audiovisual Producers, The Directors Guild of Poland, and the Krakow Film Foundation.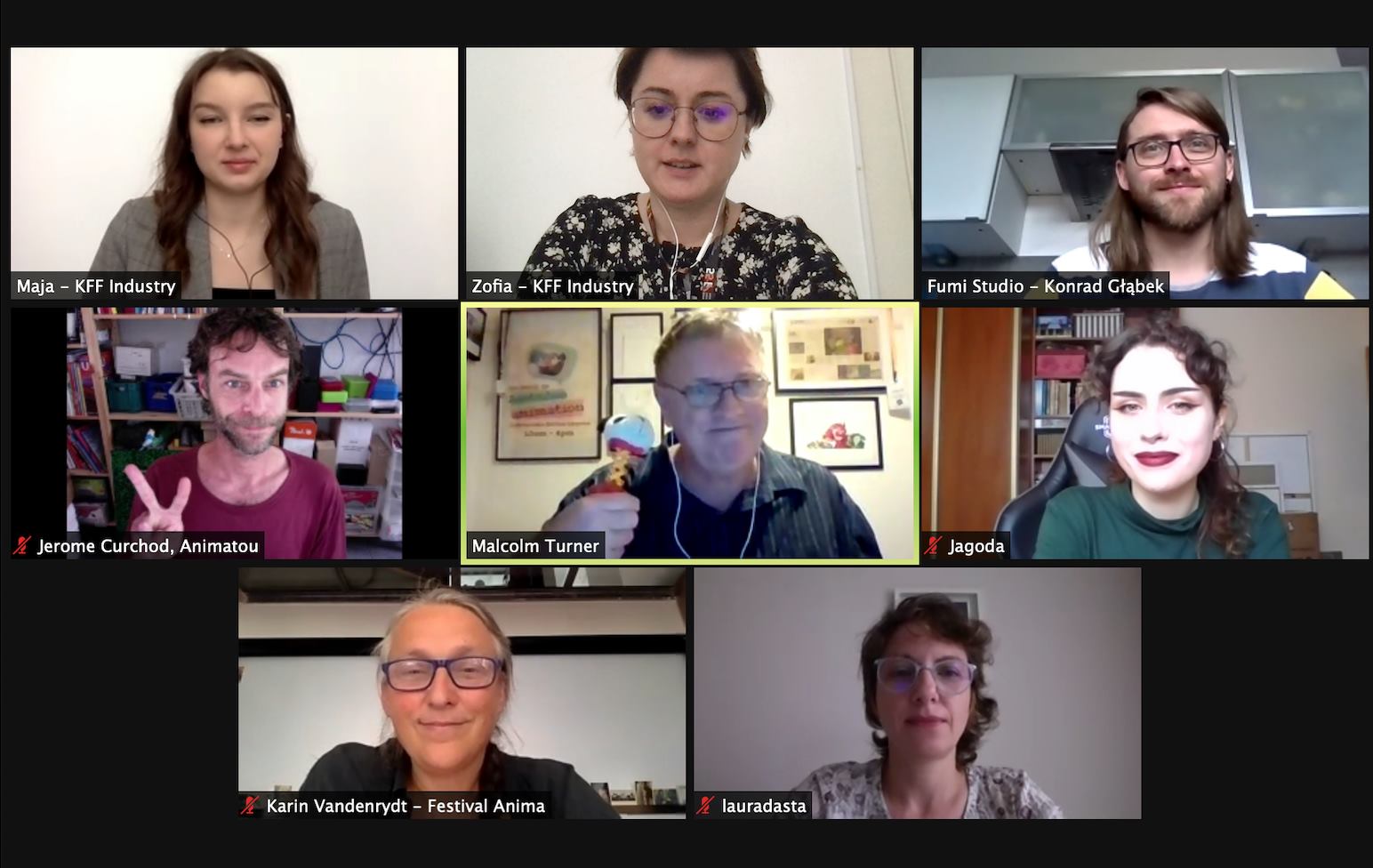 KFF Industry Meetings
On Friday, KFF Industry Meetings – one-on-one sessions with international festival programmers participating in the 61st KFF – were held for almost the entire day. They were aimed at producers, filmmakers, and other professionals involved in film promotion and took the form of 15-minute consultations. All meetings were held online via the Zoom platform. This unique format allowed participants to connect with industry guests from around the world, especially with the international festival programmers: Melbourne IFF – Australia, Curtas Vila do Conde – Portugal, Kyiv International Short Film Festival – Ukraine, IDFA – Holand, Thessaloniki IDFF – Greece, DOK Leipzig – Germany, DMZ International Documentary FF – South Korea, Doc Aviv – Israel, Animateka – Sovenia, Animatou – Switzerland, Anima Brussels – Belgium, Melbourne IAFF – Australia, POFF Shorts – Estonia, Encounters ISFF – UK, Norwegian Short Film Festival – Norway, Berlinale – Germany, Valladolid IFF – Spain, Open City Documentary Festival – UK, Docville – Belgium, One World IHRDFF – Czechia, Edinburgh IFF – UK, Tricky Women/Tricky Realities FF – Austria, Anifilm – Czechia, Prague Shorts – Czechia, Moscow FF – Russia, Uppsala ISFF – Sweden, Lago FF – Italy, Go Shorts – Holand, Sapporo ISFF – Japan, Tampere FF – Finland, Visions du Réel – Switzerland, Edinburgh International Film Festival – UK, Trieste FF – Italy, Porto Post Doc – Portugal, Dokufest Kosovo – Kosovo, Makedox – Macedonia, Beldocs – Serbia, FestAnca – Slovakia, Animest – Romania Anima Mundi / Animando – Brasil, Toronto IFF – Canada, Montreal Festival du Nouveau Cinéma – Canada, Aguilar Film Festival – Spain, Guanajuato International Film Festival – Mexico, Bogoshorts – Bogotá Short Film Festival – Colombia, Drama ISFF – Greece, Sundance FF – USA, DocsMX – Mexico, Sundance Film Festival – USA, Hot Docs – Canada, Festival de Nouvaeu Cinema – Canada, Movies That Matter – Holand , Montreal International Documentary Festival RIDM –Canada.
In total, nearly 1,000 individual online meetings were held during the entire KFF Industry.
KFF VIDEO LIBRARY
To this year's, fifteenth edition of KFF Video Library, 1500 documentary, short and animated films were submitted, from among which the organizers chose about 200 films. The selection of the most interesting documentary films from Germany, Switzerland, Greece, Italy, Norway, Eastern and Central Europe was prepared by the partners: DOK Leipzig, East Silver, Thessaloniki International Documentary Film Festival, Visions du Reel/ Swiss Films, Norwegian Film Institute and Festival dei Popoli. All qualified films were included in the market catalogue, and during the Festival, they could be watched in the digital video collection. This time KFF Video Library catalogue included also the whole program of the 61st Krakow Film Festivalavailable for professionals from abroad and accredited guest from Poland. This year, the films in the videolibrary were watched by 260 accredited guests, and among the users of KFF Video Library, there were the festival programmers of such important festivals as: Berlinale (Germany), IDFA (The Netherlands), Cannes FF (France), Sundance FF (USA), DOK Leipzig (Germany), Ji.hlava IDFF (Czech Republic), Visions du Reel (Switzerland), Doclisboa IFF (Portugal), distributors and sales agents, as well as film experts and representatives of television channels. The films collected in the video library were played a total of 3500 times. 120 films were played more than 10 times. The most frequently watched film – 93 times – was the documentary "Walk with Angels" directed by Tomasz Wysokiński.
The most frequently watched Polish films:
Walk with Angels, dir. Tomasz Wysokiński | dokumentary
1970, dir. Tomasz Wolski | documentary
Polański, Horowitz. Hometown, dir. Mateusz Kudła, Anna Kokoszka-Romer | documentary
98 kg, dir. Izabela Plucińska | animation
A Little Bit of Paradise, dir. Andrzej Cichocki | documentary
On Time, dir. Zbigniew Czapla | animation
Balcony Concert, dir. Diana Kadłubowska, Krzysztof Kadłubowski | documentary
Solar Voyage, dir. Adam Żądło | documentary
@miriamfrompoland, dir. Piotr Szczepański |documentary
Turbo Love, dir. Alicja Jasina | animation
The most frequently watched foreign films:
Far Eastern Golgotha, dir. Julia Sergina / Russia|documentary
The Hangman at Home, dir. Michelle Kranot, Uri Kranot / Denmark, France, Canada| animation
Affairs of the Art, dir. Joanna Quinn / UK, Canada | animation
Bad Mood, dir. Loris Giuseppe Nese / Italy | animation
The Man Who Paints Water Drops, dir. Kim Oan, Brigitte Bouillot / France, South Korea. |documentary
The Wheel, dir. Nomin Lkhagvasuren / Mongolia |documentary
Comeback, dir. Vladimir Leschiov/ Latvia, Lithuania| animation
Mother, dir. Subarna Das / India | animation
Inside the Red Brick Wall, dir. Hong Kong Documentary Filmmaker / Hing Kong |documentary
Clara with a Mustache, dir. Benjamin Swiczinsky / Austria | animation
The partners of KFF Industry 2021 are: Władysław Ślesicki Film Foundation, Polish Animation Producers Association, Norwegian Film Institute, Sound Mind Studio, Fixafilm, Crew United, Krakow Animation Center, Krakow Film Klaster, Lassota Krawiec Law Firm, Documentary Association of Europe
Project carried out with the financial support of: Polish Film Institute, The Marshal's Office of Małopolska Region, City of Krakow, Polish Filmmakers Association
Media Patrons: Film & TV Camera, Polish Docs, Polish Shorts i Polish Animations, Kino, Magazyn Filmowy SFP, Business Doc Europe, Modern Times, Review, Film New Europe.
Producer of KFF Industry is Krakow Film Foundation.
You can find more details here and the complete programme here.
fot. Agnieszka Fiejka, Agnieszka Cynarska-Taran, Zofia Koszałka, Katarzyna Wilk