On Sunday, 17 March, the Krakow Film Foundation and Kino Pod Baranami cinema invite everyone to a special screening of a documentary film "Destination Unknown" (dir. Claire Ferguson) – a unique testimony of twelve Holocaust survivors. After the screening the audience will have a chance to talk to one of the film's protagonists Edward Mosberg and the producer and cinematographer Llion Roberts.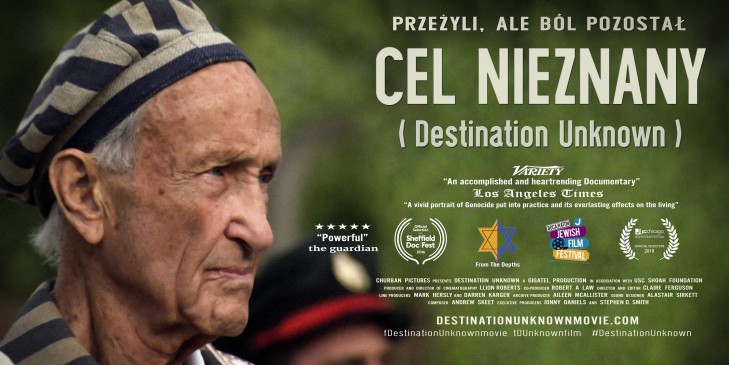 It is the second special screening of this famous documentary that is organised by the Krakow Film Foundation. Last year's screening attracted large audience. As Tadeusz Szyma wrote in the Kino magazine: "Even though it is yet another film about Holocaust, it is absolutely exceptional and unique".
"Destination Unknown" is an exquisitely made, startling documentary consisting of testimonies of men's and women's who managed to survive the nightmare of German concentration camps, or who avoided being caught living in hiding. The film is the final result of a 14-year-long project carried out by the producer and cinematographer Llion Roberts.
Roberts, inspired by an accidental meeting with a Holocaust survivor's son, spent fourteen years traveling the world and talking to people who managed to survive. Some of them, like Edward Mosberg, keep coming back to former concentration camps to keep the memory of traumatic events from the war alive. Others, like Mietek Pemper – stenographer of Amon Göth, commandant of the Krakow-Plaszow concentration camp, and Oskar Schindler's advisor – at first refused to take part in the project.
Thanks to the cooperation with a film director Claire Ferguson, a story – about people who despite various, terrifying experiences, had to face the same task, almost impossible to achieve: to live on with the memories – emerges from those conversations. The story especially important as most of these people had never shared their stories before, and half of them died before or just after the production was finished.
The film screening will take place on the day of the March of Remembrance, which as each year will begin at Plac Bohaterów Getta (Ghetto Heroes Square) and finish in the former concentration camp in Płaszów. The event will start at 12.00.
To take part in the screening and meeting you need to collect free tickets, which will be available at Kino Pod Baranami cinema from Wednesday, 14 March ([email protected] or 12 423 07 68) until they run out. The meeting held in English will be translated to Polish and hosted by a film critic, Anita Piotrowska.
The film is in English with Polish subtitles.
Destination Unknown (dir. Claire Ferguson)
17 March (Sunday), 16.00, Kino Pod Baranami cinema
27 Rynek Główny, Red Screening Room 1st floor