Watch Party at the 63rd Krakow Film Festival only on KFF VOD
It's great to catch the latest Sergei Loznitsa, or an in-competition documentary about terrorists or contemporary Belarus, but let's be honest – do we always have the energy for it? Sometimes we simply yearn to stretch out on the sofa and put on something less demanding, or to invite friends over to watch films together that let you escape from reality just for a little bit. That's exactly the kind of documentaries that will be available online from the 2nd of June at our Watch Party –exclusively on the KFF VOD platform. This year's section is curated by film blogger TYPOWY JĘDRZEJ-student filmoznawstwa.
WATCH PARTY IS THE PERFECT WAY TO CHILL OUT IN THE EVENING, SPEND SOME TIME WITH FRIENDS, AND WATCH SOME LIGHT-HEARTED FILMS. BUT EVENT THE MOST LAID-BACK DOCUMENTARIES CAN MAKE YOU PAUSE AND THINK – HENCE TRY HARDER! – A STORY ABOUT HIGH SCHOOL STUDENTS FROM SAN FRANCISCO UNDER THE KIND OF PRESSURE MANY OF US CAN'T EVEN IMAGINE. IN TURN, THE THIEF COLLECTOR IS A STORY THAT MAKES YOU GO "WTF?" I GUARANTEE THAT WITH EVERY PASSING MINUTE YOU WILL BECOME MORE AND MORE PERPLEXED AS TO HOW CAN SUCH THINGS BE EVEN HAPPENING IN THE WORLD. MEANWHILE SET! IS A TOTALLY WILD RIDE – WITH QUIRKY CHARACTERS COMPETING FOR A PRIZE IN THE BEST-DECORATED AND BEST-SET TABLE – I PROMISE YOU'RE GOING TO CLUTCH YOUR HEAD IN DISBELIEF MANY TIMES! GET THE SNACKS READY, PUT ON YOUR COMFY SWEATPANTS AND HAVE FUN! – comments TYPOWY JĘDRZEJ, the section's curator.*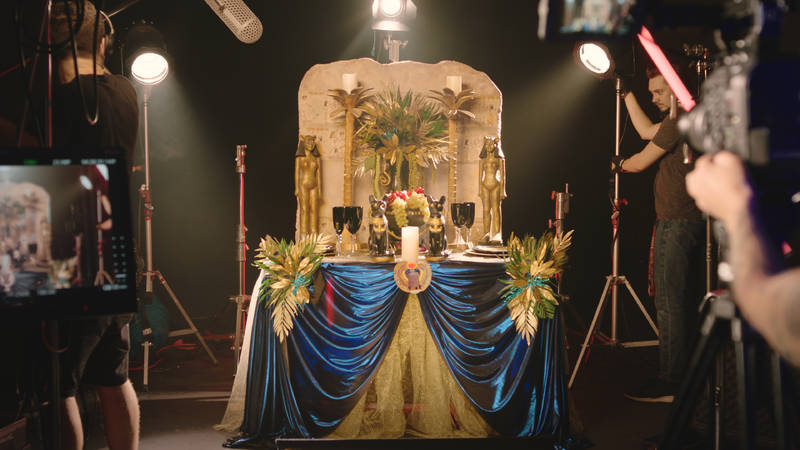 TRY HARDER!
Students at one of San Francisco's best high schools in are more familiar with the word "pressure" than anyone else. Regarded by their peers as top-exam-results machines, they grapple with discrimination prevailing at universities, parental expectations, and unfulfilled dreams. However, these young people do not lose determination, high spirits, and hope that they might be the ones to gain entry into a prestigious college. And although this may sound like the recipe for the most depressing documentary about teenagers ever, Try Harder! directed by Debbie Lum is positively bursting with youthful energy, smile, and resilience – all essential traits in the struggle against the American education system.a.
THE THIEF COLLECTOR
Found after many years in an extraordinary place and valued at $160 million, Willem de Kooning's painting serves as the starting point for a surprising, sensational tale about a kind and universally adored American couple. They love travelling and collecting souvenirs from the most beautiful and exotic places on Earth, while simultaneously harbouring secrets that could serve as the plot of several thrillers. The Thief Collector by Allison Otto is so strange and bewildering a tale that sometimes it makes it tough to believe you are watching a documentary.
SET!
How well do you know table etiquette? Generally, our knowledge is limited to basic rules, such as which side of the plate should the knife, spoon, and fork be placed. The protagonists of Set! (dir. Scott Gawlik) have mastered the art of table setting to perfection and each year vie for the title of "Best of Show". It's an extravagant, but also incredibly candid, character-revealing story about competition in what is often referred to as "the Olympics of Table Setting". Starring despotic wives, unsavoury personalities, meticulous precision, and, of course, an abundance of plates, cutlery, and decorations.
WATCH PARTY – available online exclusively on the KFF VOD platform from 2 to 18 June 2023.
dekoracji.
Try Harder!, dir. Debbie Lum, 84', USA, 2021
Set!, dir. Scott Gawlik, 104', USA, 2022
The Thief Collector, dir. Allison Otto, 95', USA, 2022
Detailed program: www.krakowfilmfestival.pl
The Krakow Film Festival is on the exclusive list of qualifying events for the Oscars® in the categories of short film (live action, animated, documentary) and documentary feature, as well as a recommending event for the European Film Awards in the same categories.
The Krakow Film Festival is organised with the financial support of the European Union as part of the "Creative Europe" program, the City of Kraków, the Polish Film Institute, the Ministry of Culture and National Heritage, and the Lesser Poland Province. The co-organiser is the Polish Filmmakers Association, and the main organiser is the Krakow Film Foundation.
The 63rd Krakow Film Festival will be held in Kraków's cinemas from 28 May to 4 June and across Poland at the KFF VOD online streaming platform between 2 and 18 June.