As every year, KFF Industry, an event for film professionals running parallel to the 63rd Krakow Film Festival, took place at the turn of May and June. This year over 1000 guests visited us, including several hundred from abroad. Filmmakers held nearly 900 individual meetings with distinguished experts and decision makers, of whom over 90 came to Kraków in person. A total of 60 projects were presented during the three pitching sessions and the co-production market.
Creators and producers of documentary, animated and short films, experts, international film festivals programmers, sales agents, distributors, representatives of film funds, TV stations, online and VOD platforms participated in a series of events organized for the eighteenth time by KFF Industry, which took place from May 29 to June 3. As every year, it was a week filled with pitches, presentations, workshops, and individual meetings. The program also included a new segment dedicated to virtual reality as well as special meetings for members from the Visegrad Group countries. Meanwhile, fans of Spanish cinema had the opportunity to learn more about its intricacies during Focus on Spain. Guests who were unable to reach Kraków in person could watch some of the recorded project presentations and use the KFF Video Library online.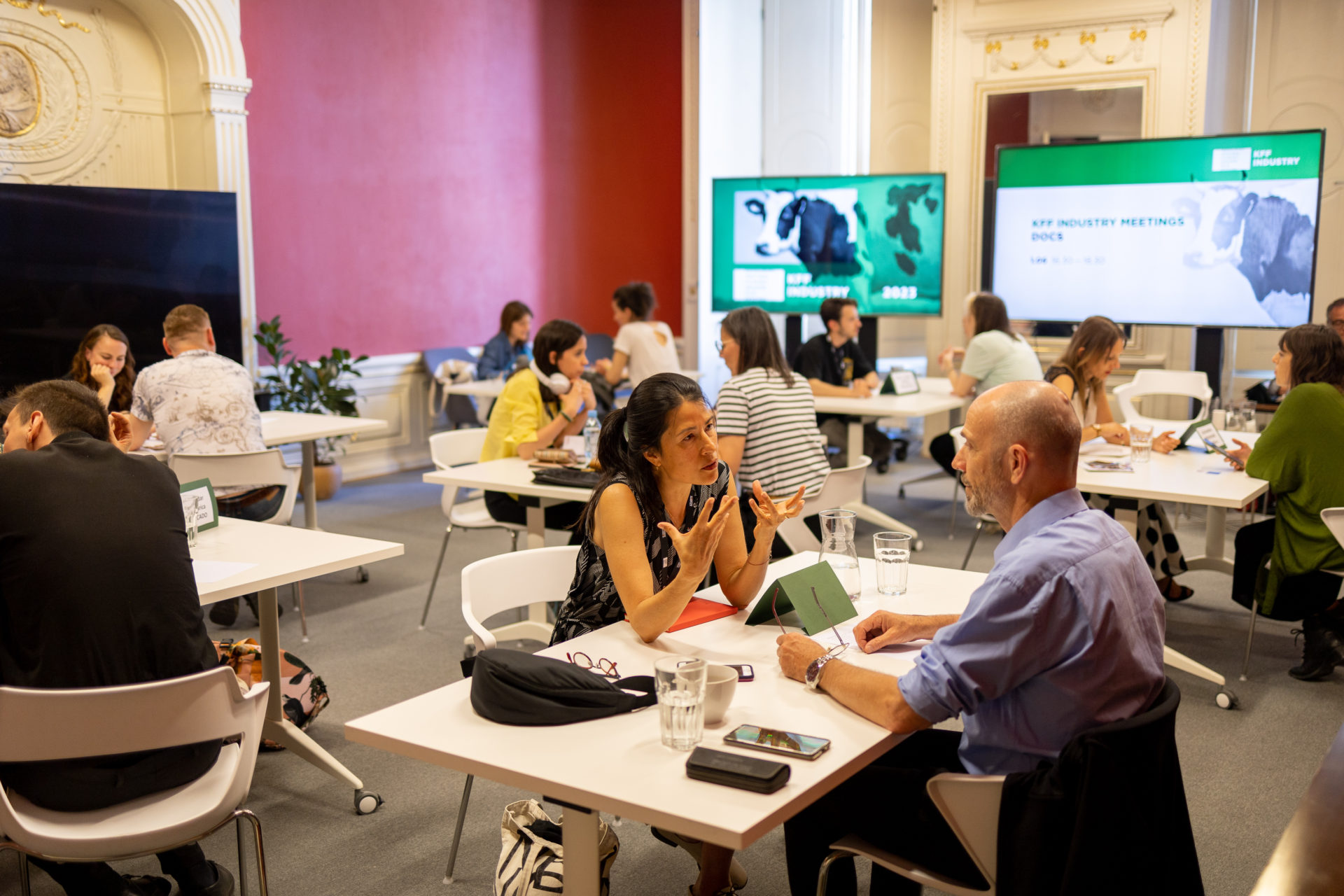 ANIMATED IN POLAND
This year's KFF Industry saw the 11th edition of Animated in Poland. The preparations for the pitches, which are the highlight of the animated section of KFF Industry, were led by Maarten van Gageldonk, program director of Kaboom Festival, the largest animated film festival in the Netherlands. Seven Polish short animated film projects in production participated in the pitch itself. After the presentations – which were moderated by Zofia Jaroszuk, an animated film producer – participants had the opportunity to talk to experts during one-on-one meetings. The best projects received awards and special distinctions. The SOUND MIND STUDIO Award – a Sound Mind Studio voucher for 10 days of sound post-production went to the project "Joko" directed by Izabela Plucińska (prod. Piotr Szczepanowicz, Grzegorz Wacławek / ANIMOON). The FIXAFILM Award – a voucher for image post-production services worth PLN 10,000 was awarded to Hair Story (dir. Dominika Wyrobek, prod. Paulina Ratajczak / FUNDACJA LAS SZTUKI, STUDIO MUNKA – POLISH FILMMAKERS ASSOCIATION). "Hair Story" also received the CREW UNITED Special Mention – a five-year subscription for Crew United's Premium tier – for the director and the producer. Meanwhile, the CeTA – CENTRE FOR AUDIOVISUAL TECHNOLOGY – Special Mention – was in-kind contribution: equipment and infrastructure rental and performance of selected services worth PLN 30,000 went to "There Is Such A Blue" (dir. Zofia Snarska, prod. Przemysław Adamski / ACADEMY OF FINE ARTS IN WARSAW).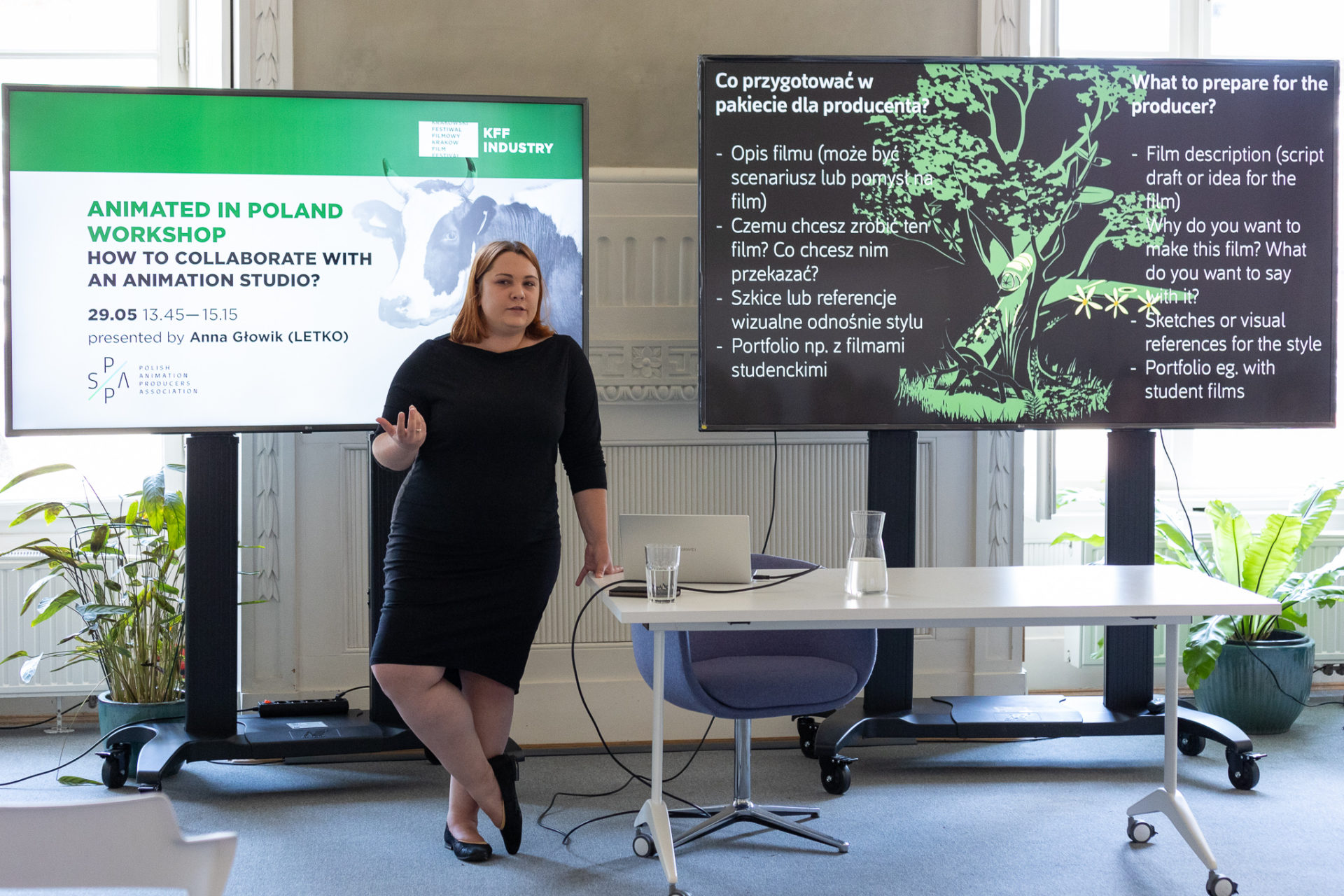 Another important part of Animated in Poland was the Talent Market. Creators looking for a producer for their projects had the opportunity to meet with representatives of 6 Polish animation studios – Animoon, Krakow Animation Center, Laniakea Pictures, GS Animation, NoLabel, and Letko. The Talent Market was prepared in cooperation with the Polish Animation Producers Association.
This year, as part of Animated in Poland, two presentations were also organized: one on cooperation with an animation studio, prepared by Anna Głowik from Letko Studio, and a legal panel led by Marcin Lassota and Wojciech Krawiec from the Lassota i Krawiec sp.j. law firm, whose topic was the legal issues surrounding film adaptations, as well as the challenges that the development of AI poses for animation.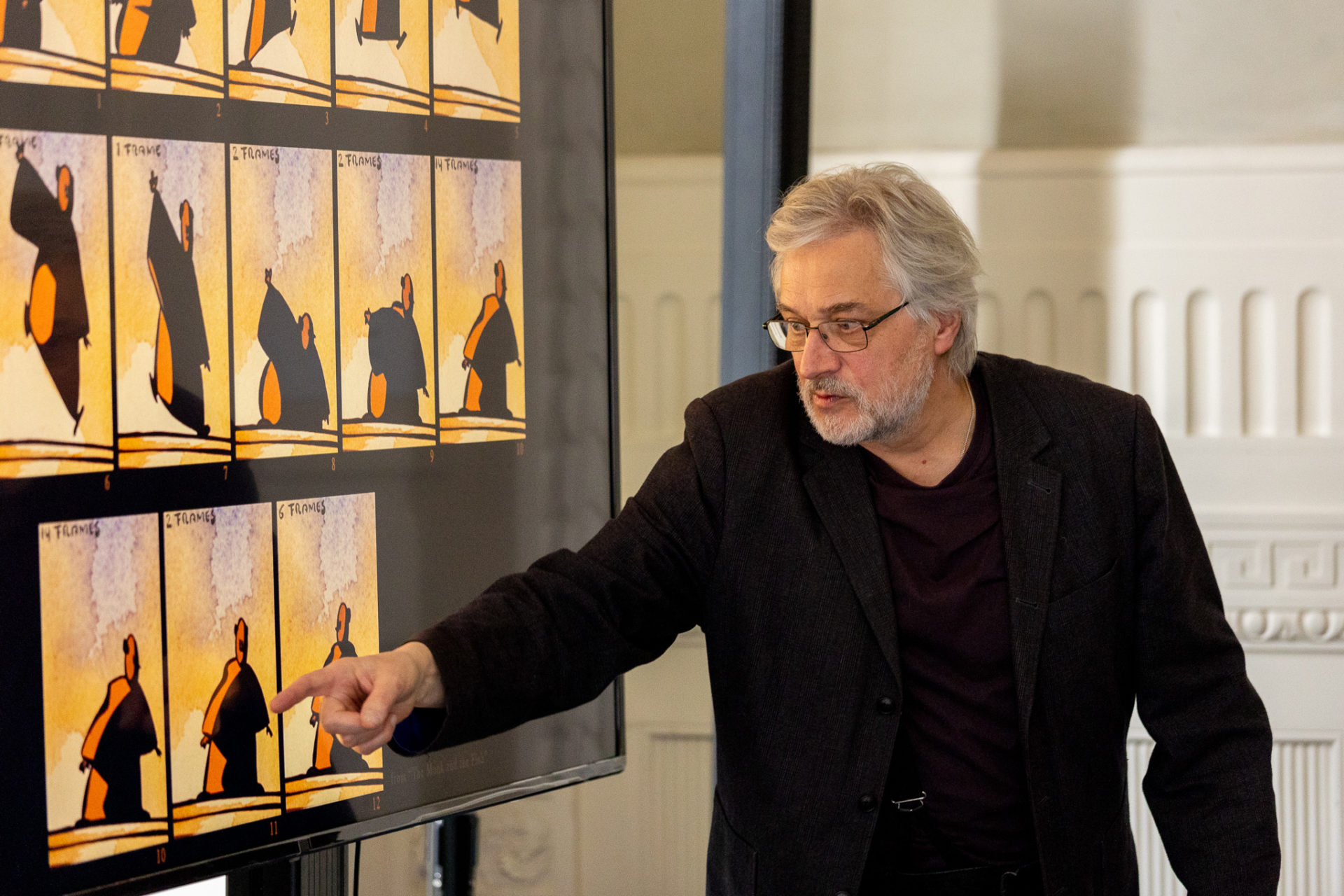 Every year during the Krakow Film Festival, the organizers give the opportunity to participate in a special Master Class with a distinguished creator. This time it was the world-famous Dutch director of animated films, Oscar winner and this year's winner of the Dragon of Dragons award at KFF, Michael Dudok de Wit. During his Master Class, he talked about the creative processes and challenges he encountered while working on his own independent films, as well as about the creation of each story, from its very starting point.
DOCS TO START, DOCS TO GO PITCHING SESSIONS
Co-organized by the Władysław Ślesicki Film Foundation, another session of DOC LAB POLAND took place at KFF Industry. Each year, selected Polish documentary projects participate in intensive workshops, which culminate at KFF Industry. Two pitching sessions took place: Docs to Start and Docs to Go, during which producers and filmmakers present the projects they have worked on. There were as many as 28 projects in total during this year's edition – since Polish artists were joined by artists and producers from Ukraine as part of the DOC LAB POLAND & UKRAINE project.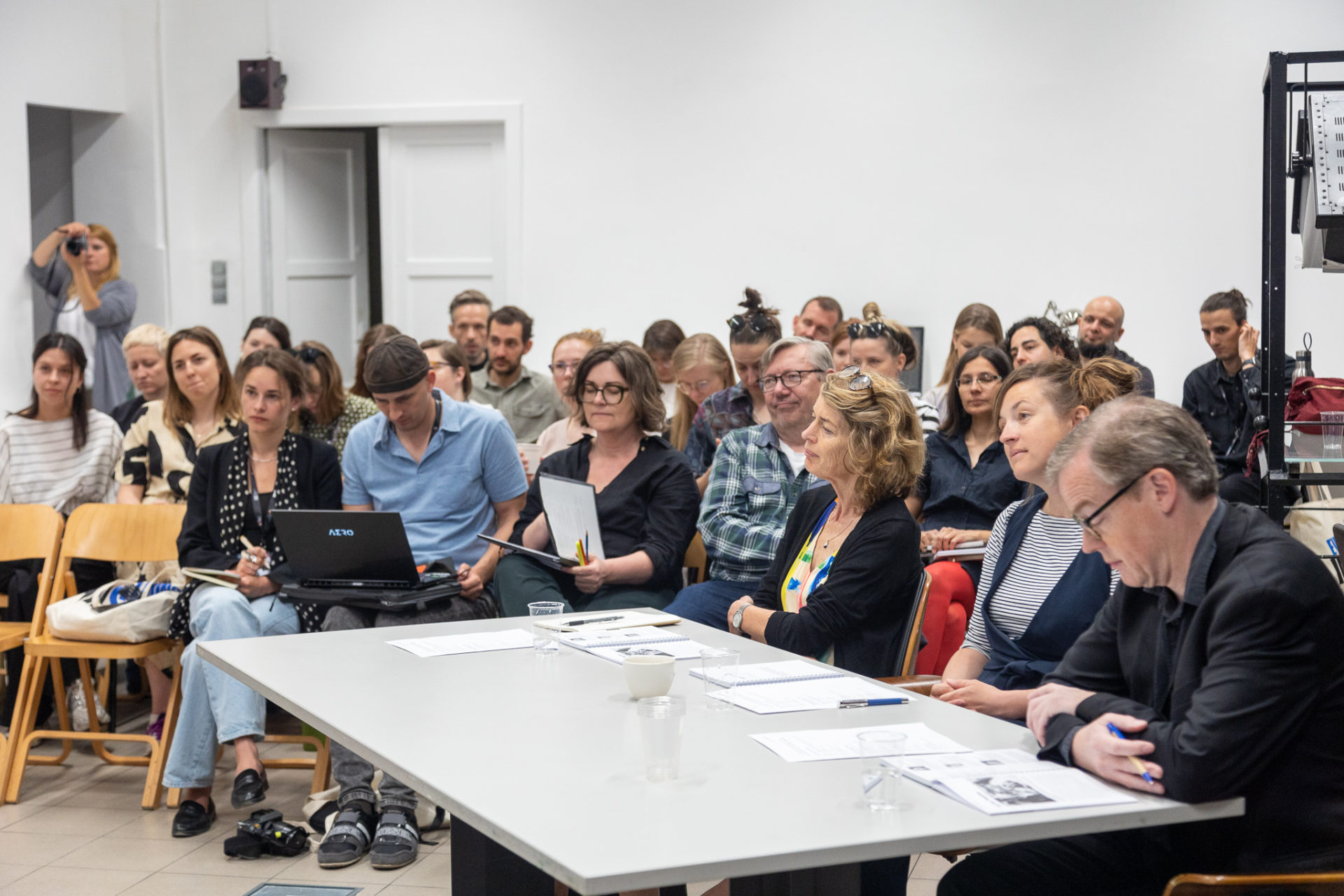 The aim of the Docs to Go pitching session is to present and promote the most interesting Polish documentaries in post-production, which are due to release within the next few months. In this year's workshops preparing producers and directors of the selected 12 projects, the tutors were Rada Šešić (programmer of documentary festivals, director) and Peter Jaeger (sales agent, distributor, consultant).
The Docs to Start pitching session involves a presentation of film projects in the development or principal photography phase. Its aim is to attract potential co-producers and funds necessary for further production. Participants presented their projects to producers, representatives of television broadcasters, regional film funds and institutions co-financing film production, as well as selectors from the most important industry events in the world. Tutors in the Start session included Adriek van Nieuwenhuiyzen (head of Industry at the IDFA festival), Tereza Šimíková (producer, head of CPH:FORUM and Chicken&Egg program consultant) and Ove Rishoj Jensen (producer and consultant, head of the Co-Production Forum at FIPADOC Industry). In total, there were 16 projects presented as part of Docs to Start.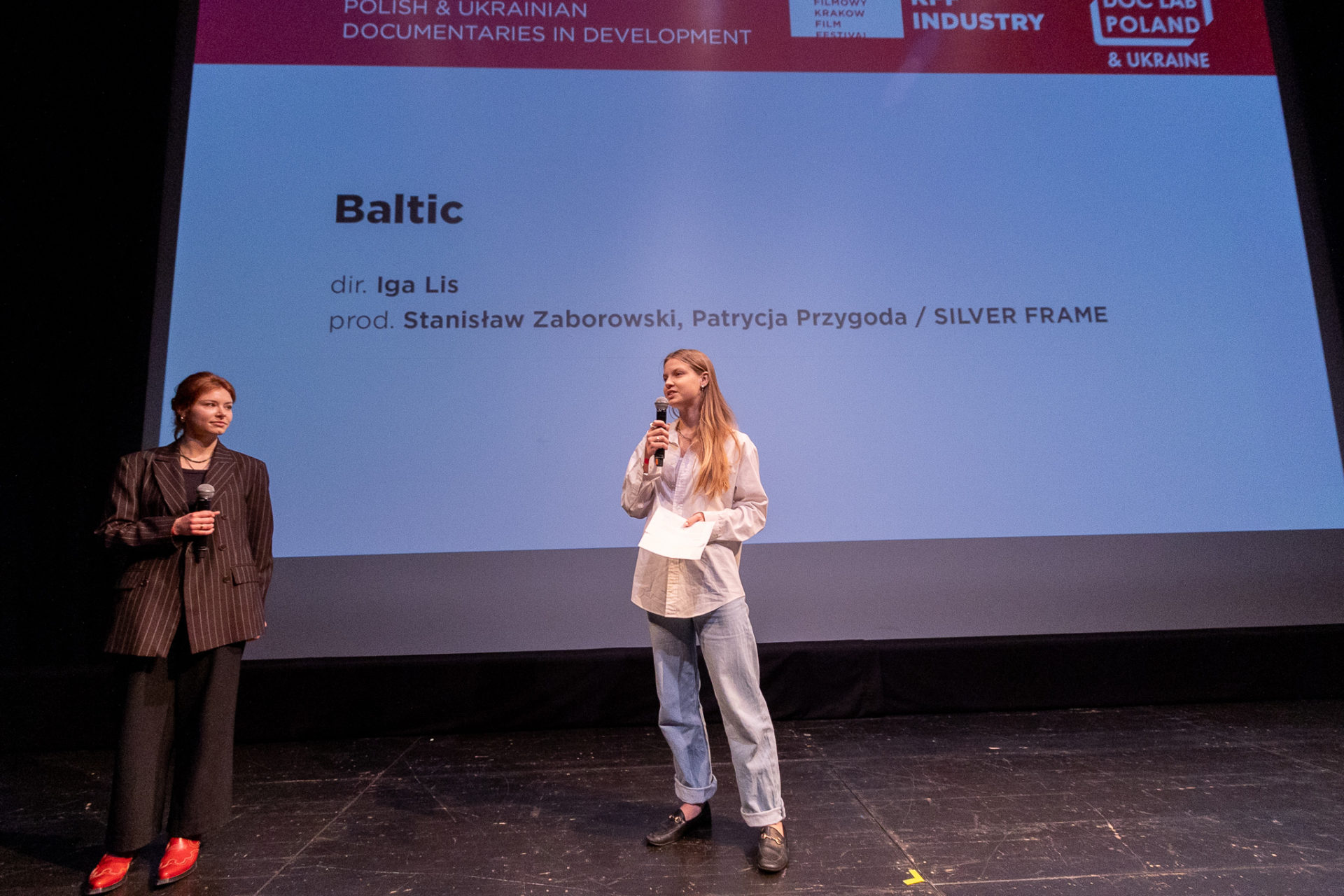 Every day after the pitches, project representatives had special one-on-one meetings with potential partners, producers, festival programmers, distributors, funds or television broadcasters – representatives of Sundance, IDFA, Hot Docs, Berlinale, HBO Max, Canal+, Syndicado, CPH:DOX, SBS, THE WHY, Cat&Docs, Women Make Movies, Catapult Fund, and many more.
Seven awards and four special mentions were awarded after the pitches. For the Docs To Go projects, three main awards and one distinction were awarded. The SMAKJAM Award – image post-production service worth PLN 25,000 – went to the project "Aria Di Bravura" (dir. Małgorzata Goliszewska, prod. Wojciech Karubin / Movie Mates). The FIXAFILM Award – image post-production service worth PLN 15,000 – was granted to the project "Runa" (dir. Agnieszka Zwiefka, prod. Agnieszka Zwiefka, Zofia Kujawska / Chilli Productions). In turn, the project "Do Painters Die Elsewhere" (dir. Michał Pietrak prod. Wiesław Łysakowski / Orient Film) received the CAFE OLE Award – a sound post-production service worth PLN 10,000 and a special mention from the Institute of Documentary Film – an invitation to East Silver during the East Doc Platform.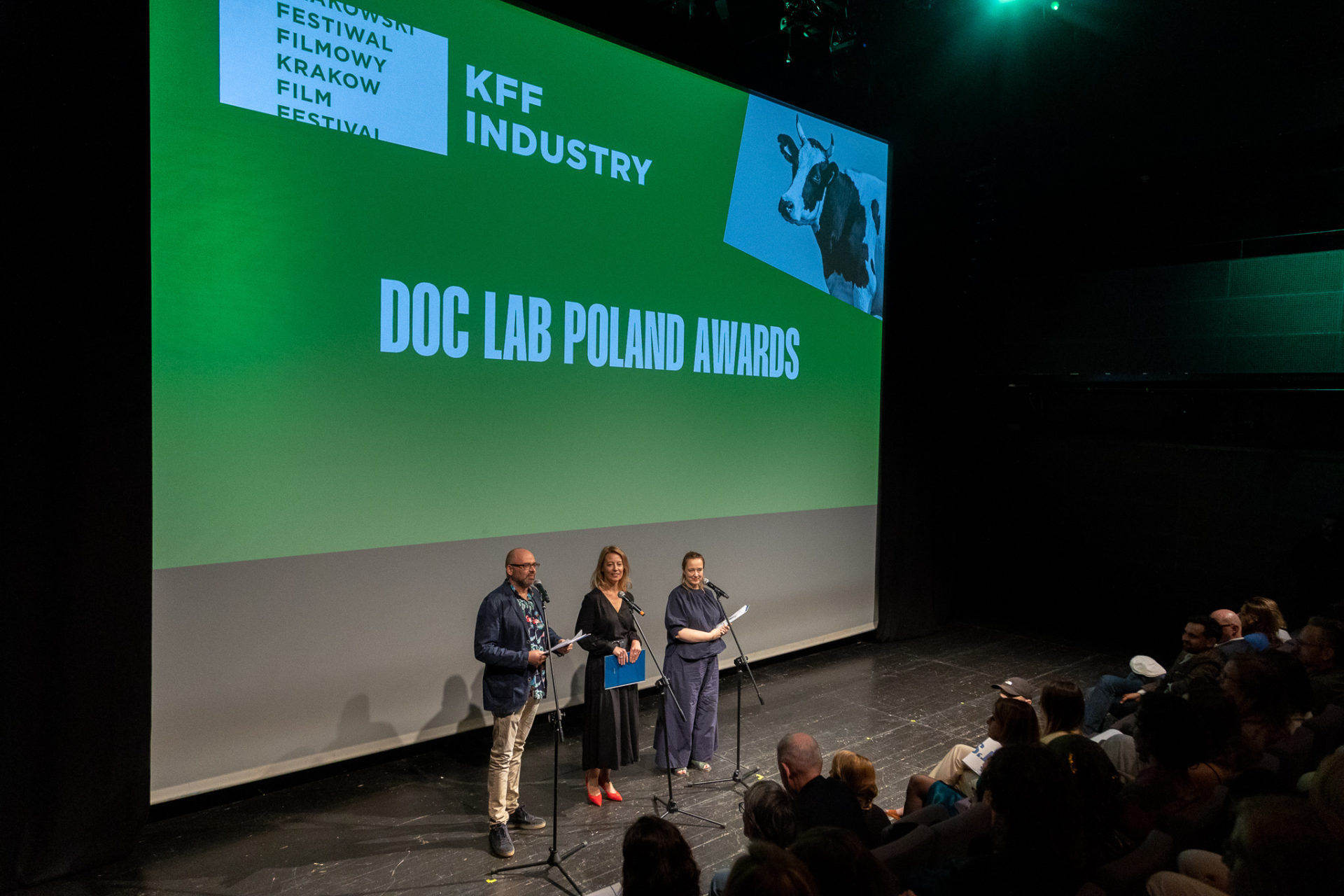 Polish documentary film projects in development participating in the Docs to Start pitching received a total of four main awards and three special mentions: The CANAL+ Award – PLN 10,000 in cash – went to the project "Home Movie" (dir. Anu Czerwiński, prod. Anna Stylińska / Film Frame, My Way Studio).The project "December" (dir. Grzegorz Paprzycki, prod. Piotr Śmiechowski / Telemark) received the ORKA Award – an image post-production service worth PLN 20,000, and a Polish Docs Pro mention, which includes support for international promotion and an invitation one of international documentary industry events. The MX35 Award – an equipment rental service worth PLN 10,000 – was presented to "Baltic" (dir. Iga Lis, prod. Patrycja Przygoda, Stanisław Zaborowski / Silver Frame). The CAFE OLE Award – a sound post-production service worth PLN 10,000 – was granted to the project "What The… Hen!" (dir. Joanna Deja, prod. Justyna Kluczewska, Maciej Ostatek / Raban Foundation). The DOK Leipzig Special Mention – an invitation to Co‐pro Meetings in Leipzig – was awarded to "Omelko's House or Guests from Kharkiv" (dir. Halyna Lavrinets, prod. Alexandra Bratyshchenko / Eleron Pictures), while the IDFA Special Mention – an invitation to the IDFA Forum as an observer – went to "Second Line" (dir. Olga Stuga, prod. Olga Stuga / EP Olga Stuga).
CEDOC I V4 CO-PRO MEETINGS
Another industry event co-organized by the Władysław Ślesicki Film Foundation during KFF Industry was the CEDOC Market – Central European Documentary Co-Production Market – the only co-production meeting in Poland for documentary producers who are looking for Polish and foreign partners. The meetings took place in the form of one-on-one talks and round tables between producers invited to the market as well as one-on-one meetings with members of the international documentary industry: producers, sales agents, television broadcasters, funds, as well as representatives of leading European training programs and pitch sessions. This year, CEDOC Market was visited by producers from CEE (as part of the Ex Oriente delegation), Spain (as part of Focus on Spain), and Ukraine (participants selected for the Doc Lab Poland & Ukraine program). In total, 25 documentary projects were qualified for the CEDOC Market alone.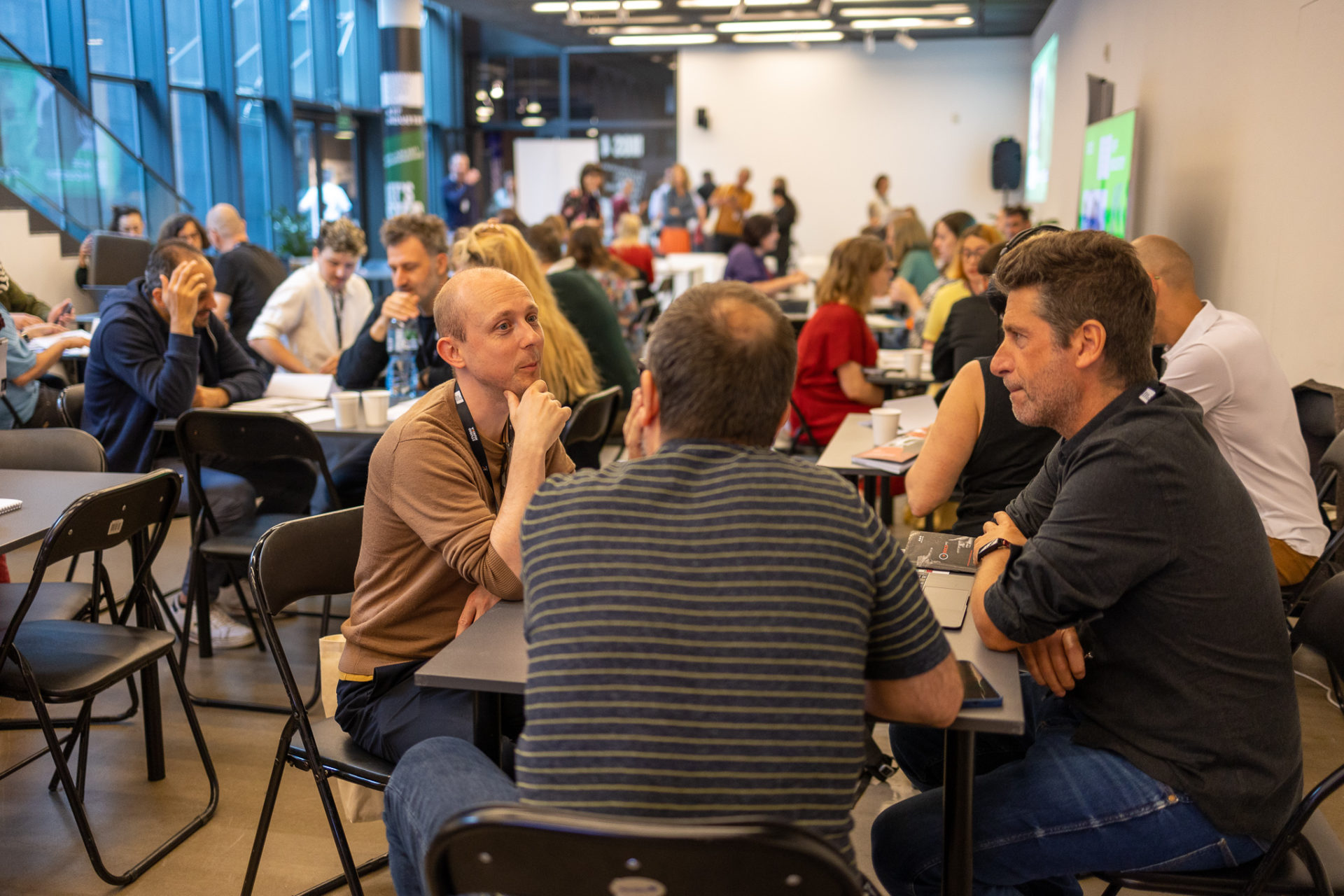 In cooperation with CEDOC, co-production meetings for film professionals from the Visegrad Group countries – V4 Co-Pro meetings – were held for the first time. Their aim was to initiate contacts between film producers and creators from the region in order to establish cooperation in the field of film production. Participants of the V4 Co-Pro Meetings also met with Ukrainian producers to discuss co-production opportunities, as well as with international experts: Aleksandra Derewienko, Cat&Docs (France), Krishane Arora, SBS (Australia), Beata Calińska, Sundance Institute (USA); Gregor Streiber, Insel Film (Germany) and Mette Hoffmann Meyer, The Why (Denmark).
PRESENTATIONS AND MEETINGS WITH EXPERTS
Spanish cinematography was a special guest of the 63rd Krakow Film Festival. Seven documentary films were selected for the Focus on Spain program. KFF Industry also hosted professionals from the Spanish industry. The industry part of Focus on Spain hosted many distinguished creators and producers: Jara Ayúcar (ICAA), Mar Izquierdo (ZINEUSKADI / BASQUE. AUDIOVISUAL) Amaia Remirez Garcia (PRODUCEr, KANAKI FILMS) Ines Nofuentes (PRODUCER, CURUXA CINEMA), Inigo Lezertua Uranga (PRODUCER, BALEA MEDIA), Mar Medir (PRODUCER, DIAGONAL), Rafa Moles (DIRECTOR AND PRODUCER, SUICAFILMS), Diego Mas Trelles (DIRECTOR OF INDUSTRY-DOCS BARCELONA). A Polish-Spanish co-production roundtable took place during KFF Industry and Focus on Spain, i.e. a closed presentation of Spanish and Polish companies interested in co-production, as well as a panel focusing on the financing, production, distribution and promotion of documentary films in Spain with the participation of representatives of the Spanish film industry. The partners of all events included the Polish Producers Alliance (KIPA), ICAA, and Basque.Audiovisual.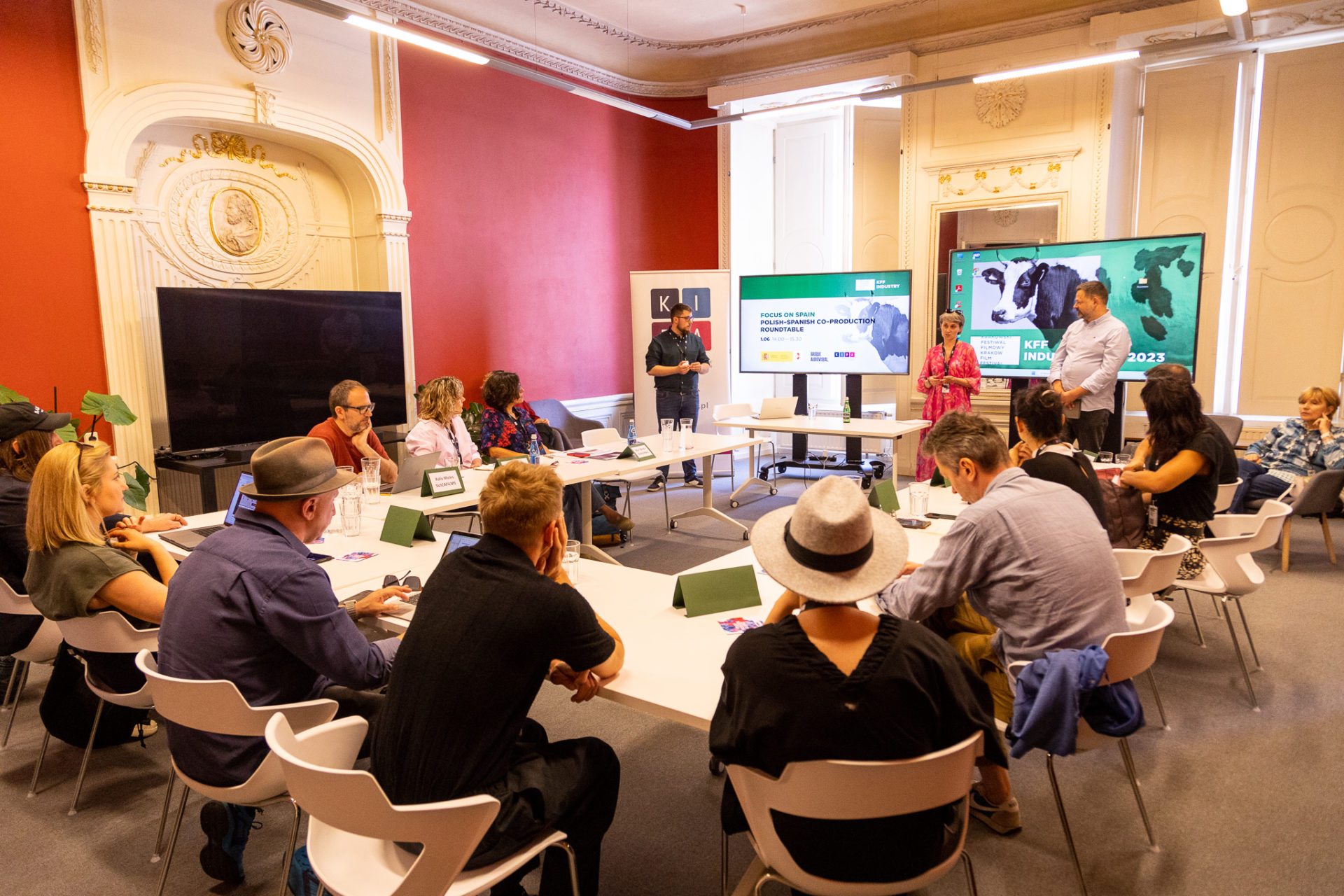 VR AT KFF: New Narrations
In tune with the times, KFF together with KIPA – the Polish Producers Alliance, the vnLab Visual Narration Laboratory, Infinite Frame, Kinhouse Studio, and VRAAR, organised the first meeting of producers and creators from the area of immersive media called New Narratives (&) XR. This panel included case studies of projects shown during the Krakow Film Festival: "The Choice" dir. Joanna Popińska, "Nightsss" dir. Weronika Lewandowska, "Cosmogonic" dir. Paweł Szarzyński and "Dead City" dir. Krzysztof Grudziński. The second point of the program was the presentation of projects: Drive The Change! New Narration Landscape (Marta Materska-Samek, Jagiellonian University & EIT Culture & Creativity) iCreative producer in Metaverse – a new dimension of being a producer (Łukasz Alwast, Everdome.io, interviewed by Marta Szarzyńska, Kinhouse Studio). During the panels, producers shared experiences and challenges encountered during the development of their VR projects.
The annual one-on-one meetings held alongside discussion panels within Meet the Festival Programmers and Meet the Sales Agents were divided into several parts – presentations of international documentary film festivals and sales agencies, as well as discussions with programmers and agents. KFF Industry Meetings– one-on-one meetings were held after the presentations. These meetings are aimed at producers, filmmakers, and other professionals involved in film promotion and take the form of 15-minute individual consultations. This year's edition was divided into 2 categories dedicated to animated and short films, as well as documentaries. Participants had the opportunity to meet with over twenty sales agents and programmers from all over Europe and the US, including representatives of Berlinale, CPH:DOX, DOK Leipzig, Visions du reel, Locarno FF, and many others.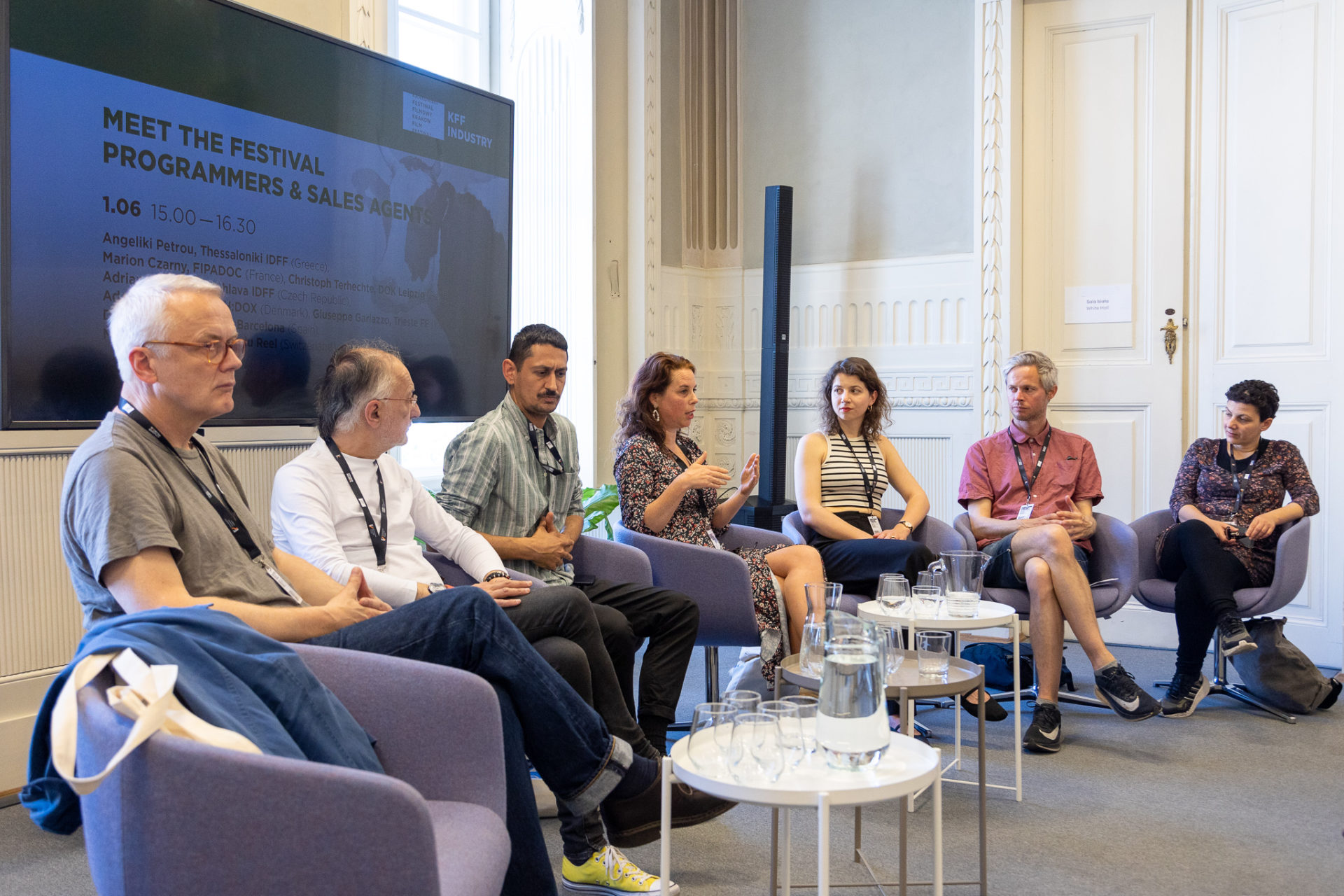 Filmmakers' Meetings. Animation and Documentary Panels
Filmmakers' Meetings. Animation and Documentary Panels are already a tradition of the Krakow Film Festival and KFF Industry. They take place on the last day of the industry events. The program was divided into two parts. The animation panel discussed the system and solutions in educating future animation creators in the context of animation, post-production, and the games industry. It was attended by distinguished representatives of the Polish animated film industry – Marta Deskur, Marzena Nehrebcka, Joanna Jasińska – Koronkiewicz, Ewa Maria Szczepanowska, Marcin Podolec, Janusz Martyn, Robert Sowa. The discussion was moderated by Dr. Michał Pabiś-Orzeszyna from the Department of Film and Audiovisual Media at the University of Łódź.
The second part, dedicated to documentaries, answered the question of whether we are facing a revolution in documentary filmmaking. Participants in the discussion moderated by Dorota Roszkowska – producer, screenwriter, and lecturer – included Tomasz Piechal, Małgorzata Prociak, Matt Subieta, and Katarzyna Wilk.
The organizers of the Filmmakers' Meeting include the Polish Filmmakers Association in cooperation with the Polish Producers Alliance, and the Krakow Film Foundation.
Networking Events
Filmmakers attending KFF Industry had also a lot of opportunities for the informal networking. They can meet each other and talk at daily KFF Industry Drinks, on the boat during Vistula River Cruise with ORKA, in Night at Kazimierz Jewish District where in Alchemia traditional festival representatives meeting took place and DJ Vika played on the occasion of 20th Anniversary of the Krakow Film Foundation and also to dance at famous Industry Party when DJ's from the Lodz Film School played celebrating the 75th Anniversary of the school.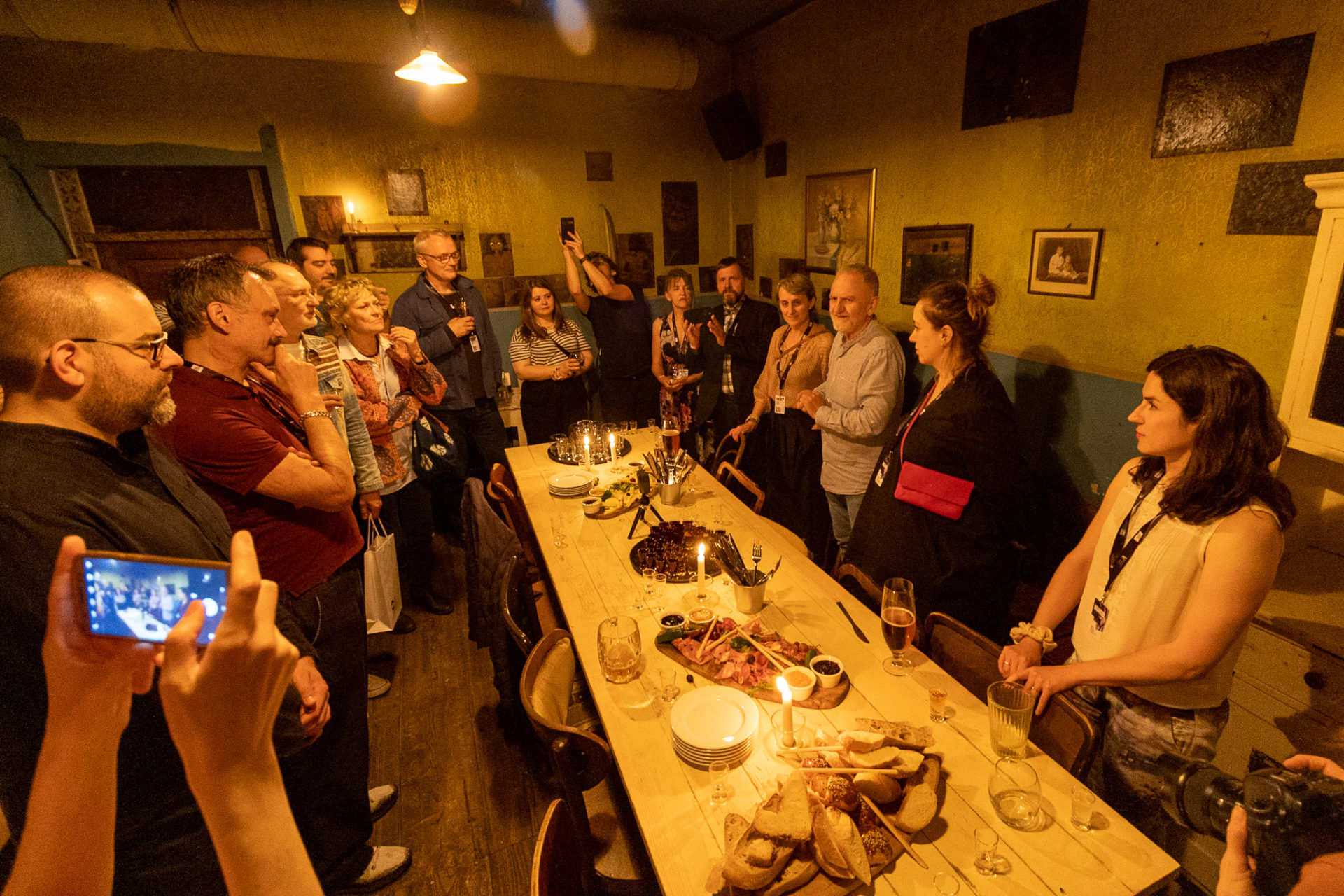 Partners of KFF Industry 2023: Władysław Ślesicki Film Foundation, Polish Animation Producers Association, Visegrad Fund, KIPA, Institute of Documentary Film, Sound Mind Studio, Fixafilm, Crew United Polska, Lassota Krawiec sp.j.,
Co-organiser: Creative Europe Desk Polska.
The project was made possible with financial support from: Ministry of Culture and National Heritage, City of Krakow, Polish Filmmakers Association, and Visegrád Fund.
Media patrons: Film&TV Camera, Polish Docs, Polish Shorts, Polish Animations, SFP Film Magazine, Business Doc Europe, Modern Times Review, Film New Europe.
KFF Industry is organised and produced by the Krakow Film Foundation. The event takes place during the 63rd Krakow Film Festival.
Ph. Tomasz Korczyński / KFF, Monika Zarzycka / Doc Lab Poland